Introduction
Xavier School (光啓学校) is a Jesuit Catholic college preparatory school with a distinct Chinese and Filipino character. Founded and managed by the Society of Jesus, the school is a K-12 school, offering a three-level curriculum: Early Education, Grade School, and High School.
Xavier School's educational philosophy is based on the 400-year old tradition of Jesuit education: the formation of an individual who is a product of a liberal education, with a special concern for the development of personal discipline, a drive for the pursuit of academic excellence, and a commitment to service.
Combining the best of tradition with innovation, Xavier School has launched new programs to promote its thrusts of Innovation, Internationalization, and Information Technology.
Among its pioneering efforts are the six-week China Overseas Programs, One2One student-centered learning, technology-enhanced instruction, to mention a few.
In its pursuit of excellence, Xavier School benchmarks its standards locally with the Jesuit Basic Education Commission, and internationally, through Singapore's International Primary School Leaving Examination (iPSLE), the US College Board's Preliminary Scholastic Aptitude Test (PSAT), and Beijing's Hanyu Shuiping Kaoshi (汉语水平考试 / HSK).
Xavier School is PAASCU Level 3 Certified, the highest accreditation given by the Philippine Association of Accrediting Schools, Colleges and Universities (PAASCU) to basic education institutions.
Xavier School is also an IB World School since 2010. It is authorized to offer the International Baccalaureate Diploma Program (IBDP), a rigorous and innovative academic program recognized by universities worldwide.
More Information
Xavier School is a Jesuit Catholic college preparatory school with a distinct Chinese and Filipino character.
Xavier School is a JESUIT BASIC EDUCATIONAL INSTITUTION founded, owned, and managed by the Society of Jesus.
By its very nature, Xavier School is a COLLEGE PREPARATORY school which offers a three-level curriculum: Early Education, Grade School, and High School.
As a Jesuit academic institution, its basic educational philosophy is based on the principle and tenets of the Ratio Studiorum and the 400-year old tradition of Jesuit education: the formation of an individual who is a product of a truly liberal education, with a special concern for the development of personal discipline, and a drive for the pursuit of academic excellence.
Moreover, Xavier School subscribes to the Ignatian philosophy of "Formation for Mission" —a formation based on a deep experience of God's love that leads to a personal conversion and a commitment to Christ's mission. This is a process that enables the person to appreciate his God-given gifts, develop them in order to use them in the service of others.
As a Jesuit school, Xavier seeks to promote the Jesuit concerns of "serving the faith which does justice manifesting a special concern for the poor, and seeking to form men and women for others."
From its very beginnings, Xavier School has always been a missionary school for the CHINESE FILIPINOS.
Xavier is one of three Chinese-Filipino schools established in the Philippines by Jesuit missionaries who were expelled from China in the 1950s.  Its special mission to the Chinese-Filipino community is to be a bridge in the following senses:
Evangelization – To be a bridge between Christ and the Chinese Filipinos so that they will know Him, love Him, and follow Him in their lives.  The challenge today goes beyond baptizing Chinese Filipinos to encouraging them to practice their faith both sacramentally and morally.
Integration – To build a bridge between the Chinese Filipinos and the Filipinos:  to be a center of dialogue between the Christian and non-Christian faith, and the Filipino, Chinese, and western cultural traditions—hence, to serve as an instrument for the integration of the Chinese-Filipino into the life of the Filipino nation.  Today, however, most Chinese Filipinos have been integrated into Philippine society.  The challenge we face is how to re-integrate our students to their Chinese heritage, especially given the growing importance of China in the world.
Innovation – "To build the bridge when we get there:" to form innovative leaders who can face the rapid changes and the radical challenges of the 21st century.  At a time when new problems have no ready formulaic solutions, we need to prepare our students for "out-of-the-box" creative thinking.  This task becomes even more important given the significant role played by the Chinese-Filipino community in the country.
Xavier School is a CATHOLIC SCHOOL whose educational program is animated by Catholic belief and doctrine.
Its religious practices, liturgies and acts of worship are Catholic: the values it promotes are Catholic in orientation.  It cultivates in its students, faculty, and staff a lively response of faith to the person of Jesus Christ, as members of different faith communities in school, at home, or within the larger ecclesial community which is the Catholic Church.
Finally, Xavier School is a FILIPINO SCHOOL.
Xavier School offers a program of studies approved, sanctioned, and endorsed by the Philippine government. Its program seeks to promote and foster in its students a healthy nationalism, an appreciation of their Filipino cultural heritage, and a consciousness and commitment to their responsibilities as citizens of the Republic of the Philippines
Vision & Mission
Xavier School's Vision:
Persons fully alive, endowed with the passion for justice, and the skills for development
Xavier School's Mission is captured in the school motto:
"LUCEAT LUX! Let your light shine!"
Our mission is two-fold:
For our students: "To nurse the light."
Our primary mission is to form our students into our vision of the Xavier Graduate. God has entrusted our students to our care: We are called to recognize in each student the light within him–even if still only a flicker–to help each student recognize that light, and to make that light grow.
As a community: "To be a light"
A secondary, but equally important mission of ours, is to live and work as one Christian community in joy and in peace so that we may be a sign of God's love and a source of hope in the world. God has entrusted us to one another as well, to be one community, to help in one another's work and one another's formation, and to be a witnessing community to the outside world.
The Xavier School Story
When the Communists took over China in 1949, the Jesuits were among the missionaries expelled from the mainland.  They eventually made their way to the Philippines where they found a new home and purpose.  They dreamed of continuing their work of evangelization by ministering to the local Chinese-Filipino community, which requested that a school be opened for them. Fr. Jean Desautels, S.J., a French Canadian Jesuit missionary, was then directed by his superiors to establish a school.
Through sheer determination, perseverance and faith, the Kuang Chi High School was eventually established and started operating on June 6, 1956 with an initial batch of over 170 students.  Classes were held in a converted warehouse on a 1.5-hectare lot in Echague, Manila.  The staff consisted of 12 Jesuits and 6 lay teachers with Fr. Desautels, S.J., as the first Director and Fr. Cornelius Pineau, S.J. as the first Principal.  Unlike other Chinese schools in the Philippines, Kuang Chi was established as a Filipino school with an English curriculum that integrated Chinese studies and, following Jesuit tradition, is exclusively an all-boys school.
The school was initially named after Paul Hsu Kuang Chi (Xu Guangqi), a 16th-century Chinese nobleman and government official who converted to Christianity and supported its evangelization. The Jesuit hallmark of scholastic excellence quickly established the school's reputation and surges in enrolment forced the move to a bigger campus.  In 1960, the school transferred to a 7.5-hectare property in Greenhills, San Juan, then only a sparsely inhabited area of rice fields and grasslands.  The institution was renamed Xavier School, after St. Francis Xavier, who initiated the dream of missionary work in China that was pursued but unwillingly left unfinished by the school's Jesuit founders.
Within a decade of the transfer, the outlying areas of the school would become home to many Xavier families, evolving into one of Manila's most dynamic Chinese-Filipino communities today.  The present campus is a complex of modern buildings where over 4,000 students from Nursery to High School aspire to live out the school motto, "Luceat Lux" or "Let your light shine," which embodies the school's vision of developing "men fully alive, endowed with a passion for justice and the skills for development."
Xavier High School was originally accredited by PAASCU in 1967, getting the honor as one of the first exclusive schools for boys to receive accreditation.  Since then, the school has always taken a very progressive approach to institutional development.  In 1970, Mrs. Jenny Huang Go, then principal of the Grade School, laid the groundwork for an innovative approach to learning and teaching, the Individualized Instruction (II).  In 1973, the same year that the Grade School was initially accredited by PAASCU, the then Department of Education, Culture, and Sports (DECS) approved the adoption by Xavier School of the II on an experimental basis.
The Grade School Department had received PAASCU accreditations from 1976 to 1998.  In 1984, the school undertook the Curriculum Improvement Process (CIP) and the already instituted II was renamed Personalizing Education (PE). Just before re-accreditation in 1998, the Grade Level Team approach was strengthened and the Personalized Eclectic Traditional (PET) approach was adopted as a teaching methodology while the Hanyu-Pinyin approach to teaching Chinese Mandarin was introduced in 1999.
Under the Directorship of Fr. Johnny Go, S.J., the first Xavier alumnus to be appointed School Director, the Grade School was re-accredited anew by PAASCU in 2003.  The Understanding by Design (UbD) framework was instituted the following year as a methodical effort to improve the leveling of Xavier School with international standards.  The Grade 7 Flexible Curriculum or Synthesis Quarter was also launched together with the school's first overseas enrichment program, the Xavier China Experience (XCE) in Xiamen, China.
A number of notable programs were initiated under the auspices of Fr. Go:  the Curriculum Reform Program highlighted by the Academic Summit of 2004 and succeeding Curriculum Audits; the Ignatian Institute for Teaching Excellence (IGNITE), a systematic professional development and Ignatian formation program for the faculty and staff; the Chinese Studies Curriculum Reform; and, the integration of two international benchmarking exams; Singapore's International Primary School Leaving Exam (iPSLE) and Beijing's Language Proficiency Exam (HSK).
The Xavier Grade School and High School were again accredited by the PAASCU for fresh 5-year terms in 2008.  It was also during this year that the Singaporean Curriculum in Math and Science were adopted on an experimental basis.  In 2010, the International Baccalaureate (IB) Program was introduced, aimed at widening the breadth and depth of the school's learning experience.
In 2012, Xavier School Nuvali in Canlubang, Laguna, opened her doors to the first batch of students.
In 2013, Xavier School welcomed Fr. Aristotle C. Dy, SJ, PhD, as the second Xavier School alumnus to be School President.
The Xavier School curriculum is continuously being refined to suit the requirements of its students, who are evolving into modern citizens of a globalized community.  The faculty and staff are constantly being given the incentive to equip themselves with the tools to address the educational needs of the students, from integrating the latest teaching technologies to opportunities for further studies.  For the past 50 years, Xavier School has been providing a Jesuit education and Catholic formation.  Guided by the 6 C's that define a Xaverian (competence, culture, compassion, conscience, character and community), it is unwavering in its mission to prepare students for a responsible life committed to excellence, social justice and the service of their fellowmen.
The school's work, history, identity and may be found on the following books — Our Pride and Glory: Xavier School at 50, Luceat Lux: The Story of Xavier School, and The Xavier School Institutional Identity Book. More recent updates may be found in the Xavier School Annual Reports, which include XSETF's Annual Reports. All these books are available from the Archives Office and the Development and Alumni Relations Office (DARO).
The Xaverian
THE XAVERIAN
In 2002, the Jesuits of Xavier School met to look for a way to express the school's vision, mission, values, and ideals. As a result of that meeting, the 6Cs were developed. One could say that the 6Cs spell out Xavier School's vision statement. What do we mean by academic development? The student should have COMPETENCE, CULTURE, and COMPASSION. How about personal formation? Well, he/she should have CONSCIENCE, CHARACTER, and a sense of COMMUNITY.

,
School Symbols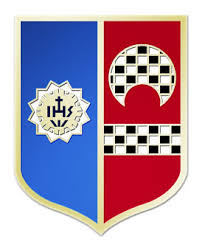 An article in the maiden issue of Xavier, the school organ, which saw light in March 1963, explains the meaning of the coat-of-arms. The article is reproduced here in its entirety. After presenting a drawing of the new coat-of-arms, which is exactly the present one, the article goes on to say:
As you may have noticed from school stickers and pins, the shape of the emblem is a shield. In heraldic language this particular shape is called "l'écu français" in modern form. The face, or escutcheon, is divided by a vertical line. From the point of view of the observer, the left side is called the Dexter side, and the right side, the Sinister side.

The Dexter side of the escutcheon represents the school and its aim. On an azure background are two suns, one superimposed on the other. The twelve-pointed silver sun represents China; the gold sun, with eight bundles of rays represents the Philippines; and on the center of the sun is the blazon of the Society of Jesus with the monogram, IHS, with the H surmounted by a cross, and beneath the three nails. The design carries a beautiful meaning, that in this school, the Society of Jesus acts as a bond to unite China and the Philippines.

The Sinister side is the authentic blazon of the Javier family, Francis Xavier being the patron of the school. The heraldic formula shows a black- and-silver-checkered crescent reversed above a black and silver checkerboard bank upon a Gules background.

The meaning of this coat-of-arms is gathered from the authoritative interpretation of Rev. Father Reconde, S.J., of Javier's Castle, Navarre. The Crescent was the motif granted by Sancho VII, King of Navarre, to a member of the Xavier family, Don Ladron, the first Mayor of Javier (Navarre), for his valiant and victorious fight in the battle of Las Navas de Tolosa in 1212, the last great and final victory of Spain against the Saracens. The black and silver squares in the checkerboard band have been interpreted in Navarre's heraldry as symbols of the courage and military prowess of the Javier family, since the chess board in the Middle Ages was meant to express the preparedness to "gamble one's life on the chess board," or as we would say, to lay it down on the line. Finally, the background of Gules which, in heraldry, stands for red, means the bloody and heroic sacrifice paid for every daring and sublime undertaking.
– Chapter 3, Luceat Lux: The STory of Xavier School by Fr. Santos Mena, SJ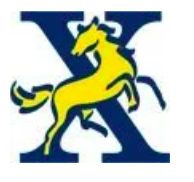 In 1976, the Golden Stallion was introduced as the school's mascot.
The horse played a very vital role in history so that it has no equal. During the ancient times, the horse was a symbol of power and prestige. Its image was stamped upon man's coinage, sculptured on his temples and even elevated to his Pantheon and worshipped as divine. At a time when gallantry was the ideal, 'cheval', i.e., the horse, provided its terminology – CHIVALRY. The horse was also the means used by Ignatius and Xavier in their conquests of the "Kingdom". The modern horse is also known because of its capacity for adaptability to the uses of man.
Therefore, no mascot could be more appropriate than the horse and particularly the STALLION for Xavier School, since we aim to develop men who will make history in their own ways. Men who will create "a space for love to build what all men desire – a city of brothers".
STALLION for Manliness, Power, Stamina, and Determination
GOLDEN for Warmth of Sunlight, Cheerful Spirit, Industry, Hope, Sympathy, Achievement, and Aspiration to Sanctity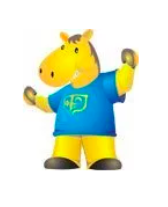 In the school year 2002-2003, Hoofy, the official caricature of the Golden Stallion, was born. Hoofy was crafted by then student David Gonzales ('05) and company.
School Song
LUCEAT LUX
Xavier School, our pride and glory
To you, we pledge our loyalty
Day after day, year after year
You've taught us to hold these things most dear
Strength and purity of soul, mind, and body
Self-sacrifice, the spirit of charity
Gratefully, we sing your name to the sky
As we hold the torch on high
Luceat, luceat lux!
Keep the light in your hearts always.
Luceat, luceat lux!
Make it grow brighter with each day.
Walk without fear along life's dark and stony road.
Give a helping hand to lighten someone's load.
Make your light brightly shine 'til the journey's end
Luceat, luceat lux!
LUCEAT LUX
(Filipino)
Xavier School, sa 'yo'y papuri
Katapata't pagbubunyi
Bawat araw, bawat saglit
Ang aral mo'y di iwawaglit
Tatag, kalinisan ng puso at diwa
Pagmamahal, pagtulong sa kapwa
May ngiti, ngalan mo ay sambit
Taas noong umaawit
Luceat, luceat lux!
Alab mo sa 'mi'y pagningasin
Luceat, luceat lux!
Tanglaw mo sa puso'y magningning
May tapang at lakas sa landas ng buhay
Sa kapuspalad kamay ay ialay
Liwanag ilantad magpakailanman
Luceat, luceat lux!
Musika ni: Bb. Ma. Dolores Avelino
Titik ni: G. Frederick Perez
LUCEAT LUX
shèng guāng yào míng
圣 光 耀 明

guāng qǐ xué xiào kě ài kě jìng tóng xué men qí yǒng yuè huān xīn
光 启 学 校 可 爱 可 敬 同 学 们 齐 踊 跃 欢 欣
tóng dé tóng xīn shǐ zhì zhōng qín rì xīn yòu xīn jīng yì qiú jīng
同 德 同 心 矢 志 忠 勤 日 新 又 新 精 益 求 精
shēn líng jiān zhēn chún dé jīng yíng xī xiǎo wǒ bó ài lì háng
身 灵 坚 贞 纯 德 晶 莹 牺 小 我 博 爱 力 行
gāo jǔ shèng huǒ zhào pǔ rén líng gē sòng guāng qǐ rù qīng yún
高 举 圣 火 普 照 人 灵 歌 颂 光 启 入 青 云
shèng guāng míng shèng guāng yào míng shèng ài liè huǒ zhào ěr xīn
圣 光 明 圣 光 耀 明 圣 爱 烈 火 照 尔 心
shèng guāng míng shèng guāng yào míng shèng ài liè huǒ zhào ěr xīn
圣 光 明 圣 光 耀 明 圣 爱 烈 火 照 尔 心
qí fèn qǐ xiàng qián jìn kuài yīng yǒng xiàng qián jìn
齐 奋 起 向 前 进 快 英 勇 向 前 进
nǎ pà qián tú hēi àn qí qū yòu jiān xīn
哪 怕 前 途 黑 暗 崎 岖 又 艰 辛
Kuài yǐn dǎo kǔ nán zhōng dì xiōng xiǎng ān píng
快 引 导 苦 难 中 弟 兄 享 安 平
qiān qiū wàn nián shèng guāng yào míng
千 秋 万 年 圣 光 耀 明
Administration
Committed to providing excellence in education towards our students' formation in the 6Cs, below are the people who lead Xavier School. Please feel free to reach out to any of the leaders listed should you have any need or concern.
CENTRAL ADMINISTRATION

School President

Fr. Aristotle C. Dy, SJ, Ph.D.

Administrative Assistant

Cindy H. Lau

School Treasurer

Dobbin A. Tan, MBA

Human Resource & Development Director

Michael P. Delos Reyes, MA

GRADE SCHOOL (SAN JUAN)

Principal

Jane C. Cacacho, MA

Assistant Principal for Academics

Jay Y. Perez, MA

Assistant Principal for Formation

Joal Ria S. Orqueza, MEd

HIGH SCHOOL (SAN JUAN)

Principal

Ma. Theresa N. Ladrido, MEd

Assistant Principal for Senior High School

Maricel D. Ngo, MA

Assistant Principal for Junior High School

Paolo C. Suapengco, MEd

Assistant Principal for Formation

Andrea Chaveli V. Dela Cerna, MEd

XAVIER SCHOOL NUVALI

Principal

Arlene Trinidad-Choo, MEd – CTL

Assistant Principal for Academics

Frederick S. Perez, MA

Assistant Principal for Formation

Peter Marc D. Magsalin, MA
School President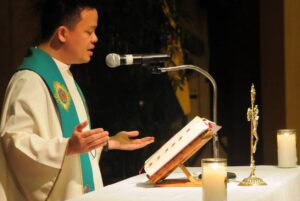 Fr. Aristotle C. Dy, SJ, Ph.D. is the 6th School President of Xavier School and the 2nd alumnus to hold the position.
Fr. Aristotle Dy was elected School President by the school's Board of Trustees for a term of three years effective 01 April 2013. A renowned academic, he began his career in the academe as a Conversational Mandarin High School Teacher in Sacred Heart School (Ateneo de Cebu) in Cebu City for two years before serving for eight years in the Ateneo de Manila University as a Lecturer and Officer-in-Charge of the Chinese Studies Program, as Associate Director of the Confucius Institute and as Associate Director and Director of the Ricardo Leong Center for Chinese Studies.
Fr. Dy is from the Xavier School Class of 1989 and graduated as a Xavier Awardee. He earned a BS Management-Honors degree from the Ateneo de Manila University before entering the Society of Jesus in 1993. After his priestly ordination in 2004, he became Director of Jesuit Communications. From 2004-2008, he also served as the National Secretary for the CBCP Chinese-Filipino Apostolate. At present, he Chairs the Chinese-Filipino Apostolate cluster for the Philippine Province of the Society of Jesus.
Fr. Dy is author and editor of numerous publications. Some of the books he authored include Weaving A Dream, Reflections for Chinese-Filipino Catholics Today (2000) and Building a Bridge, Catholic Christianity Meets Chinese-Filipino Culture (2005). He was editor of With New Eyes, The World as Seen by Preachers of the Word (2001), Spirit of the Place, An Anthology to Mark the 70th Anniversary of Sacred Heart Novitiate (2002), Chinese Filipinos 华菲 (2003), Sundays for Skeptics, The Homilies (2003), and The Pilgrim and the Sage (2019).
In 2008, Fr. Dy left Manila to pursue special studies in Chinese Buddhism. On top of his Master of Arts degrees in Philosophy and Theological Studies from the Ateneo de Manila University, he also has a Masters in Buddhist Studies from the University of Hong Kong, and was awarded the Doctor of Philosophy degree in Study of Religions for his dissertation on Chinese Buddhism in the Philippines by the University of London's School of Oriental and African Studies in July 2013.
In 2017, he attended the Jesuit Tertianship Program run by the Jesuit Conference of Asia-Pacific from September 2017 to February 2018. Tertianship, meaning "third," is the final stage of Jesuit formation.
Board of Trustees
Date : 30 September 2022
To : The Xavier School Community
From : The Corporate Secretary
Subject : Election of Xavier School, Inc. Board of Trustees
————————————————————————-
We are pleased to inform you that at the Annual Corporation Meeting of Xavier School, Inc. held last 17 September 2022, the following Jesuits were elected to the Xavier School Board of Trustees for a term of three (3) years, from 01 April 2023 to 31 March 2026.
Jesuits:
| | |
| --- | --- |
| Fr. Joseph Raymund Patrick Sanchez, SJ | President, Ateneo de Iloilo |
| Fr. Harvey C. Mateo, SJ* (XS '91) | Chaplain, Bonoan Campus, Ateneo de Naga University (GS and JHS) |
| Fr. Michael L. Pineda, SJ* | President, Sacred Heart School Ateneo de Cebu |
*1st term
The following lay members' terms were extended for one year, from 1 April 2023 to 31 March 2024. Having reached the term limits, their extended term will give the Corporation more time to consider new nominees.
Dr. Francis Chua

Chairman, Bank of Commerce

Chairman, BA Securities, Inc.

Mr. Jacinto C. Ng, Jr.

Group Executive Officer, Joy-Nostalg Group
At the meeting of the Board of Trustees, held right after the Corporation Meeting, the following appointments were made:
Mr. Johnip G. Cua Chairman
Fr. Aristotle C. Dy, SJ President
Mr. Dobbin A. Tan Treasurer
Ms. Cindy H. Lau Corporate Secretary
Other Members of the Board are:
1. Fr. Aristotle C. Dy, SJ
2. Fr. Primitivo E. Viray, Jr. SJ
3. Fr. Joseph Y. Haw, SJ
4. Fr. Xavier L. Olin, SJ
5. Fr. Peter O. Pojol, SJ
6. Fr. Manuel A. Uy, SJ
7. Mr. Johnip G. Cua
8. Mr. Rodolfo P. Ang
9. Mr. Manuel Fong, Jr.
10. Ms. Robina Gokongwei-Pe
Other Members of the Corporation are:
1. Fr. Guillrey Anthony M. Andal, SJ*
2. Fr. Arnulfo O. Bugtas, Jr., SJ*
3. Fr. J. Cesar R. Marin, SJ
4. Fr. Nemesio S. Que, SJ
5. Fr. Joaquin Jose Mari C. Sumpaico, SJ
*new appointments to the Corporation
For your information and guidance.
(sgd.)
Cindy H. Lau
Corporate Secretary
Noted:
(sgd.) (sgd.)
Mr. Johnip G. Cua Fr. Aristotle C. Dy, SJ, Ph.D.
Chairman President