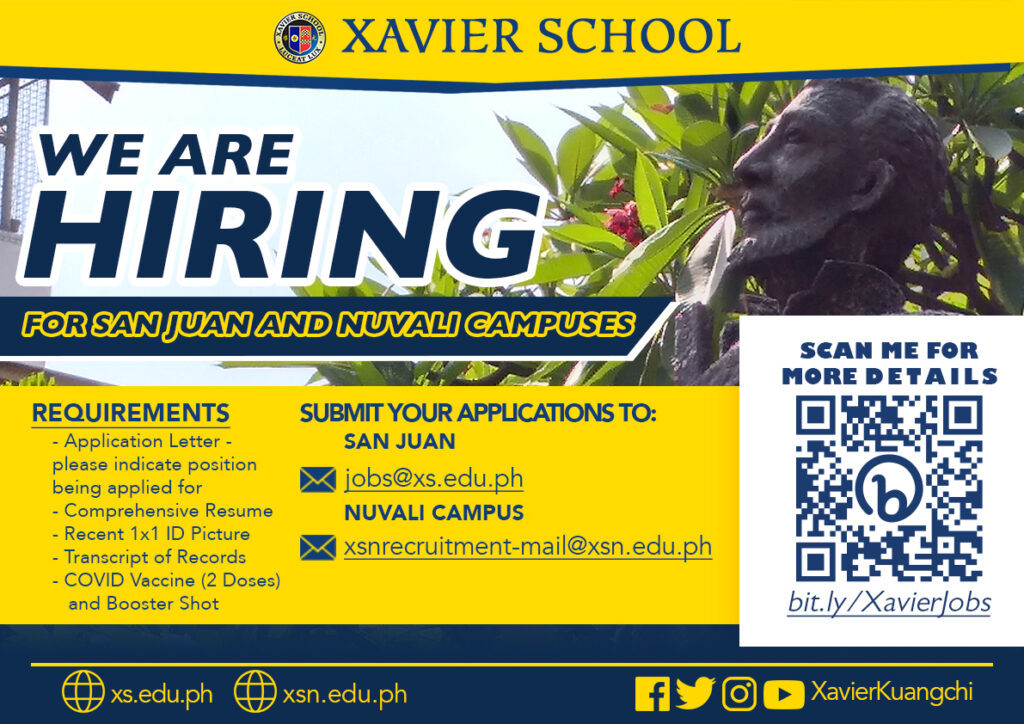 Careers at Xavier School
Xavier School is a Jesuit Catholic college preparatory school with a distinct Chinese and Filipino character. Founded and managed by the Society of Jesus, the school is a K-12 school, offering a three-level curriculum: Early Education, Grade School, and High School.
Xavier School's educational philosophy is based on the 400-year old tradition of Jesuit education: the formation of an individual who is a product of a liberal education, with a special concern for the development of personal discipline, a drive for the pursuit of academic excellence, and a commitment to service.
Combining the best of tradition with innovation, Xavier School has launched new programs to promote its thrusts of Innovation, Internationalization, and Information Technology. Among its pioneering efforts are the six-week China Overseas Programs, One2One student-centered learning, technology-enhanced instruction, to mention a few.
Xavier School is PAASCU Level 3 Certified, the highest accreditation given by the Philippine Association of Accrediting Schools, Colleges and Universities (PAASCU) to basic education institutions.
Xavier School is also an IB World School, authorized to offer the International Baccalaureate Diploma Program (IBDP), a rigorous and innovative academic program recognized by universities worldwide.
We are accepting applications for Faculty and Non-Faculty positions in preparation for the coming school year
FACULTY

FOR EARLY EDUCATION, GRADE SCHOOL, JUNIOR HIGH SCHOOL,
AND SENIOR HIGH SCHOOL

NON-FACULTY

FOR CENTRAL ADMINISTRATION AND OTHER OFFICES

· English, Filipino, Chinese

· Math, Science

· Social Studies/Social Science

· Christian Living Education (CLE)

· Business (Marketing, Organization and Management, Economics)

· Computer Education

· Music, Arts, Physical Education

· Guidance and Counseling

· Campus Ministry

· Library Science

· Student Supervisor

· Library Assistant

· IT Staff

· Marketing Manager

· Accounting Staff

· Secretary

· Psychometrician






Minimum Qualifications:
· Degree in Education (preferably for teachers) or any related course
· Excellent communication and interpersonal skills
· Values-oriented and dedicated to students' formation
· Active, dynamic, industrious, and self-driven
· Able to multi-task and can be flexible
Application Documents:
· Application Letter (please indicate position applying for, and specify if applying for XS San Juan or XS Nuvali)
· Comprehensive Resumé
· Transcript of Records (if available)
· COVID Vaccine Card (Two doses and a booster shot)
Interested applicants are requested to email their application documents to jobs@xs.edu.ph
For those applying to Xavier Nuvali, kindly email