16 February 2023
XS San Juan: Canteen Food Providers for SY 2023-22024
Please be informed that application for Xavier School San Juan Canteen Food Providers for School Year 2023–2024 is already OPEN. Interested food vendors/ providers are required to submit the required forms and documents and participate in the application/ bidding process.
A. REQUIREMENTS
 1. Duly filled up Application and Bid forms (available at Gate 2)
 2. Letter of Intent
 3. Company Profile
 4. Financial statement and ITR for the past 2 years
 5. SEC or DTI Registration; Business Permit
 6. Company bank details (with passbook)
 7. BIR Registration
 6. Menu with corresponding selling price
B. APPLICATION/ BIDDING PROCESS:
 1. Submission of application and documentary requirements. DEADLINE: on or before 10:00AM, 01 MARCH 2023 in Gate 2.
 2. Screening of application by the Canteen Committee
 3. Food Tasting to be participated in by students, faculty, staff, alumni and parents
 4. Evaluation of Canteen Committee and select representatives
 5. Awarding of Approved Application
Please be informed and guided by the following:
1. Starting Bid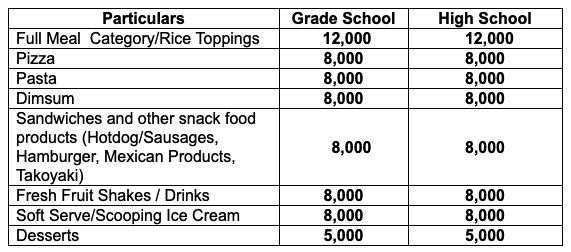 2. Food providers can only apply for a maximum of 2 stalls. The school has the discretion where your stall be placed.
3. Incidentals
a. Community dues of Php1,500/month for one food stall; and Php2,000/ month for two food stalls will be collected over and above the reimbursable expense.
b. Electricity will be charged on a monthly basis, according to the computed consumption of each food provider's area.
4. Time Frame of Contract: The contract is for one (1) school year, beginning June 2023 to March 2024. Xavier School has the right to terminate the agreement (e.g. for unsatisfactory service, unprofessionalism) after giving the food provider fifteen (15) days notice.
5. School Population: Estimated population of the school is 4000.
6. Canteen Operations: All food providers are required to sell from 7AM to 4:30PM.
7. Mode of Payment: Xavier School observes cashless system using PayMaya Card and GCash from Grades 5 to 12 including faculty and staff.
8.Price & Size of Serving. A fixed meal of Php 100.00 consists of soup, rice, 1 meat/fish viand, vegetable and dessert. Food providers are required to sell the ACTUAL size presented and approved during the food sampling. You are requested to weigh and use standard measuring utensils.
9. Restrictions: GS Food providers can only sell to GS students (7AM to 4PM). HS Food providers can only sell to HS students (7AM to 4PM). In GS Canteen, ONLY the GS Full Meal Provider will be allowed to sell during the first 15 minutes of lunch break.
10. Estimated Number of School/Canteen Service Days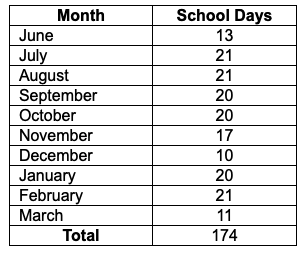 For further inquiries, please call Canteen Services at 8723-04-81 loc 1005 and 1006.
Thank you very much.
Ms. Joey Magpily
Auxiliary Services Coordinator
Noted by:
Ms. Maritess Elizalde
Campus Operations Director