Xavier School Varsity Basketball Teams harvested multiple titles to close this school year's first season.
The XS '07 team finished 2nd Runner Up in the Philippine Athletic Youth Association (PAYA) Mini-Midgets Tournament against Ateneo de Manila University (ADMU) last October 19. The same day saw the Xavier Aspirants team bowing to ADMU by a point to settle for the PAYA Aspirants Division 1st Runner Up trophy. 
In the Philippine Schools Basketball League (PSBL) last October 13, two XS teams figured in the finals; the XS '05-'06 team brought home the 2nd Runner Up Midgets Division trophy after battling tough and gritty San Beda University, while the XS Mini team composed of '07 and '08 boys won the championship against Marist School.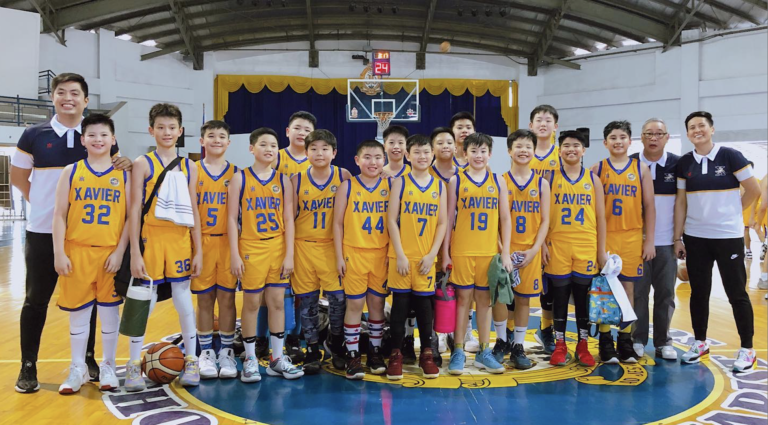 The Juniors Basketball Team successfully defended their championship in the Private Schools Athletic Development Association (PRADA) Juniors Tournament against San Beda University. It was an exciting, down-to-the-wire game that saw XS trailing by one in the dying seconds. Heintrick Tan sealed the game for the Stallions via a running lay-up just before the buzzer.
Congratulations to the XS Basketball Teams! Luceat Lux!
Juniors Team – PRADA Champions
CHENGLAY, SEBASTIAN      12G 
CHING, ANDRE RAPHAEL      11D
CHUA, LIAM JOSHUA      12E
DURANTE, JOHN MIGUEL      11E
ESPINAR, DARREL      11G
SEBASTIAN, JUSTINE DANIELLE      12D
SIGGAOAT, MANUEL ANTONIO III      12F
SYTIN, DARREN GABRIEL      12C
TAN, HEINTRICK MIGUEL      12B
TAN, MIGUEL ROY LUIS      12C
TAN, SHANE MATTHEW      12F
TANHEHCO, SYDNEY TAYLOR      12I
TIONGCO, GARI SEVERINO III      11E
WONGCHUKING, KEITH ANTHONY      11D
YU, RYAN SAMUEL      12E
Mini '07/'08 Team – PSBL Champions
CHOA, ANDREW BRYAN      7A
CHUA, IRUS      8A
CUE, STEPHEN JOHN III      7A
ESCUDERO, JOAQUIN CRUZ      7C
GO, SAVIAN GAVIN      7C
RAMIREZ, YUAN MANOLO      7C
TAN, HEINTNIER MARTIN      7C
TAN, JEREMY ISIAH      7G
UY, GAVIN RILEY      7A
CHIO, ANDREW XAVIER 6A
GO, HANS DAVIDSON      6G
LAGAR, RAMBERT ETHAN      6F
TANGSOC, LANCE JACOB      6C
YAOMUNTEK, DRAKE MARCUS      6C
YU, WESLEY YUAN      6F
Aspirants Team – PAYA 1st Runner Up
BUHAIN, DERRICK LONZO      10I
CHENGLAY, ENRIQUE      10C
CHUA, IAN      9A
CO, MARTIN VICTOR      10E
ESPINAR, DEAN      10B
GAMBOA, JULIAN MARI      10I
GO, BRADLEY PHILLIP      10H
MARAVILLA, JOSEPH 10G
NAPEÑAS, PATRICK NORHAN      10C
RILLO, MARIUS AIDAN      10B
RODRIGUEZ, PAOLO ANTONIO      9A
SOHU, MIGUEL JOACHIM      10A
TAN, ANDRE MIGUEL      9A
TAN, NATAN CONNOR      10E
TANJANGCO, XAVIER PIO      10G
Mini '07 Team – PAYA 2nd Runner Up
CHOA, ANDREW BRYAN      7A
CHUA, IRUS      8A
CUE, STEPHEN JOHN III      7A
ESCUDERO, JOAQUIN CRUZ      7C
FERNANDEZ, MARCUS JACOB      7C
FERNANDEZ, RYIAN WRIGHT      7B
GARCIA, SEAN KENDRIC      7C
GO, SAVIAN GAVIN      7C
HAW, SHAUN JORDAN      7H
OCHOA, ANTONIO MIGUEL      7E
RAMIREZ, YUAN MANOLO      7C
TAN, HEINTNIER MARTIN      7C
TAN, JEREMY ISIAH      7G
 TE, RAYMOND ALLEN      7G
TUBID, RONALD ARGELIO      8D
UY, GAVIN RILEY      7A   
Coaching Staff
John Edwin Sy – Program Head
Miguel Angelo Chan
Juben Ledesma
Ian Chris Mazo
Christian Orbe
Marsha Faustino
Alexander Nicolai Ocampo
Dindo Tidon
Joselito Imutan
Jamael Pangandaman
Glenn Gacutan
Bernadette Ruth Marie Atienza
Renee Rochelle De Guzman