The Alumni Association of Xavier School constantly finds ways to connect with different generations of alumni, apart from the annual homecoming.
It was the brainchild of Wilson Lui Tan of the class of 1987 to organize the Xavier Cookout, a Saturday fellowship evening where alumni-owned food businesses set up shop on the school grounds and the entire community comes to celebrate their bonds as they try out different cuisines developed by young alumni. After a break of three years due to the pandemic, the cookout will be back this year on March 11. 
To attract the older generations, Wilson conscripted the help of recent silver jubilarians represented by Jeremy Cobankiat (XS '95) and Fritz Dy (XS '96) to organize the first Senior Stallions Night to gather the school's senior alumni for a simple evening of camaraderie. 

On February 17, close to 90 alumni from the school's first twenty batches (1960 to 1979) gathered at the school to enjoy each other's company. South Fujianese comfort food was served to everyone's delight, and Eva Marie Poon successfully engaged the crowd with her English and Chinese songs from across the decades. With the help of Ferdinand "Yoks" Yu (XS '87), she also facilitated some games, including trivia questions about the school's history prepared by the school's alumni relations office. Raffle prizes donated by the younger alumni were also given out.
The event was attended by AAXS past president William Go of XS '60, one of only nine graduates in the school's first batch. There was also good turnout from the classes of 1962 and 1963, including past AAXS president Benito Chua, Jr., and exemplary alumni awardee Paulino Tan.
This year's golden jubilarians from the class of 1973, including School Board Chairman Johnip Cua, were well represented, and the biggest delegation came from next year's golden jubilarians from the class of 1974, including past AAXS president Manuel Uychiaoco II.
There was also a happy bunch from XS '79 led by AAXS past president Rudy Ang, who were happy to be the youngest among the seniors, a distinction they hold only this year. Current and past AAXS presidents from XS '86, Toti Sanchez and Edgar Gatchalian, were on hand to lend their support.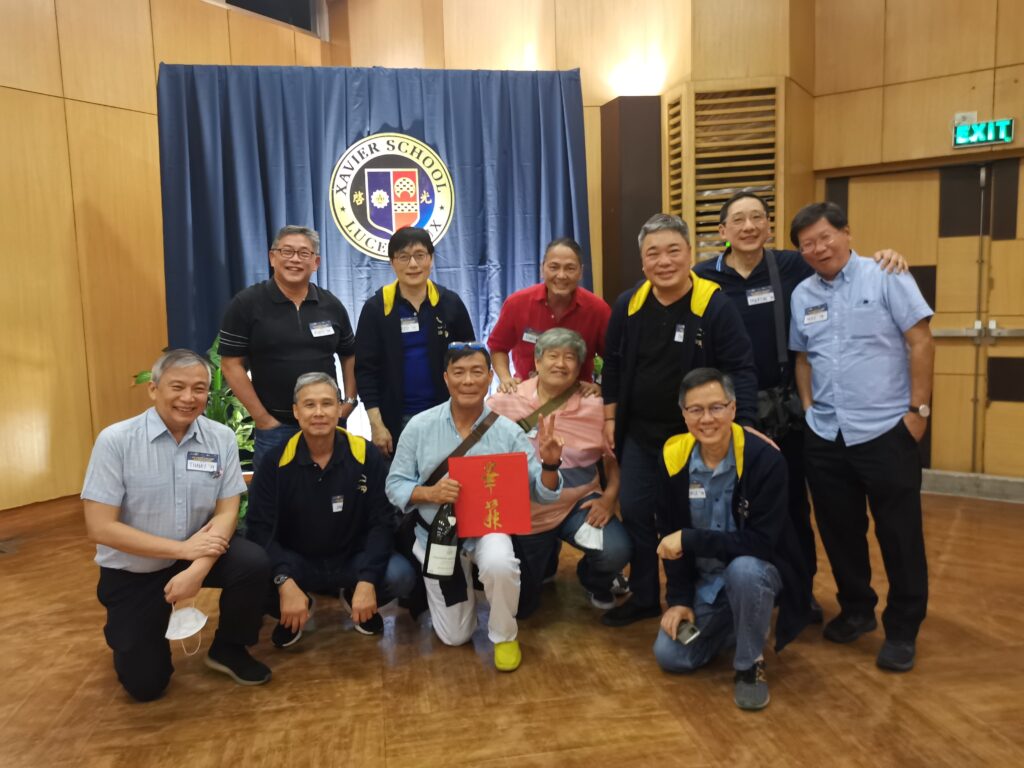 The evening ended with more trivia shared by Alfredo Tsai (XS '62), visiting Manila from his base in Chicago. He shared that before the school song in English was composed, there was a Chinese school song used in the original campus in Echague that his father , Tsai Chi Khun, composed. He gamely sang a few lines form the song, before the whole crowd ended the evening with an a capella rendition of the traditional school song known to all Xaverians.  Xavier School, our pride and glory !