Students and teachers filled the Fr. Rafael Cortina, SJ Sports Center with creative and colorful costumes last November 28, 2022 with the return of the highly anticipated Jazz Up Your Wordrobe (JUYW) Parade with the theme The Language and Stories that Inspired Me.  The JUYW Parade served to formally close the Grade School Literacy Month, which was a joint project by the Reading and Language Departments, in partnership with the Learning Resource Center.  The last JUYW Parade happened two school years ago prior to the lockdown brought about by the COVID-19 pandemic. 
Separate parades were held for the Grades 2 to 6 Batch 1 and Batch 2 students.  Each program kicked off with an invocation led by Ms. Lean Banalo.  Fr. Felipe Yohan, SJ, the school chaplain, blessed the Advent wreaths during the Batch 1 invocation, and selected students lit the first Advent candle for both batches.   Mrs. Jochelle Preligera (Language Department Chairperson) and  Mrs. Zarah Berras (Reading Department Chair) delivered the opening remarks, while Joseph Carpio of 6E and Reeliah Winoah Salvador of 6G served as emcees for Batch 1 and Batch 2 respectively.   The  Zoomies were also able to enjoy the festivities by watching a livestream of the event via the school's Youtube channel.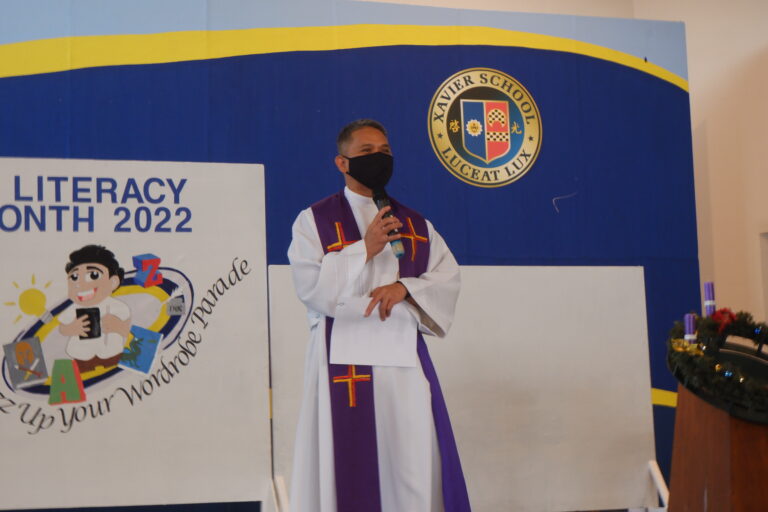 Each grade level paraded in themed costumes, i.e., fables (G2), fairy tales (G3), legends (G4), mythology (G5) and action/adventure (G6). Not to be outdone, too, were the faculty and staff who also came in costumes that brought to life words from well-loved books. The costumes served to visualize words in the hope that these will become new additions to the vocabulary of the students.
The festivities continued in the classrooms with the sharing of vocabulary words, class picture taking, and a Quizizz activity entitled The Great English Quiz Bee, which aimed to test students' reading and language skills. 
Kinder and Grade 1 students, teachers and staff held their Jazz Up Your Wordrobe Parade on November 29, 2022. They came dressed as words and characters from classic children's books and other all-time favorite stories.
Complementing the parade was the return of the onsite book fair organized by the Learning Resource Center in partnership with Fully Booked. The book fair ran from November 28 to December 1, 2022.