On July 19, 2019, The Manuel Sr. and Socorro Fong Sports Center was inaugurated at Xavier School Nuvali, Calamba, Laguna.
The event was attended by the benefactors and their family and friends; the XS Board of Trustees (BOT)—in attendance were Mr. Johnip Cua (Chairman), Fr. Aristotle Dy, SJ (President), Fr. Primitivo Viray, Jr., SJ (Provincial Superior), Fr. Xavier Olin, SJ, Fr. Guy Guibelondo, SJ, Mr. Rudy Ang, Ms. Robina Gokongwei Pe, Mr. Jacinto Ng, Jr., Mr. Manuel Fong, Jr., Mr. Miguel Tan, and, Mr. Carlos Chung; Xavier School Nuvali and San Juan administrators; and many other special guests.
 Mr. Manuel C. Fong, Jr. (XS '68) and his wife, Mrs. Marian Rosario Q. Fong, are the benefactors of the new Sports Center. Their sons, Manuel Christian (XS '94), Leland Matthew (XS '97), and Ryan Thomas (XS '00) all graduated from Xavier School, San Juan. The latest addition to XS from the Fong family is their grandson, Manuel Colin, who entered kindergarten last school year.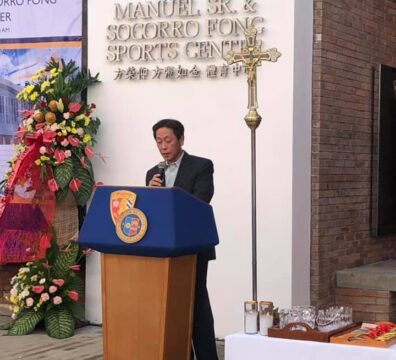 In his address to the guests, Mr. Fong recounted the rich and challenging history of his parents and grandparents, owing to them the values and principles in life and business that the current generation of Fongs uphold. He proudly expressed that all that they are now stems from the continuing legacy of their forefathers. He ended his speech by thanking the following:
"To Fr. Zuloaga, Fr. Johnny, and Fr. Ari's vision for XSN and all those who shared and supported this vision; to the project teams of ZsaZsa Yu, Dominic Galicia, designers, architects, engineers, who have spent countless hours, days, months, and years; to all the XS alumni and friends who have supported and contributed their unselfish efforts to the success of the project; and to the families of Santiago Cua for the basketball court and Wong Chu King for the swimming pool.

 "With that, we would like to thank all of you present here today as testimonials to the legacies my parents have given us for all Xavier generations to live and share."
 The full content of Mr. Fong's inaugural speech may be read here.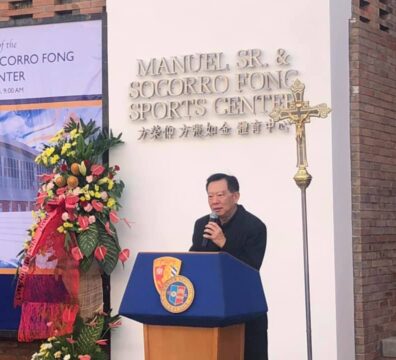 In a gratitude speech delivered by Mr. Johnip Cua, XS BOT Chairman, he expressed his heartfelt thanks to the Fong family for their endless generosity:
 "Our gratitude goes to the Fong Family, led by Manny and Marian, Dorothy, Patrick, Margaret and Susie. We thank them for their generosity in majorly funding the Sports Center, and naming it after their parents. This structure will now be called the Manuel & Socorro Fong Sports Center. As many of you may know, Manny is a member of the Board of Trustees of Xavier School. Over the years, he has not only donated his own money, but he has also spent a lot of time and effort begging on behalf of our school. And from my personal experience, I can tell you that begging is much more difficult to do than donating!  Thank you very much, Manny, for your dedication in helping our school."
 Mr. Cua also acknowledged the donors of the Aquatics Pavilion and the competition court:
 "I'd also like to thank Wong Chu King family for donating the Aquatics Pavilion, and the Santiago & Libertad Cua family for donating the competition court. These two families have been two of the most enthusiastic supporters of our school since the founding days in the late 1950's. 
"The Wong Chu Kings have been a founding donor of the Xavier School Educational & Trust Fund, and have been donating physical facilities and scholarships for our students. Recently, they have donated all of our newer chapels, as they are a very religious family.

 "The Santiago Cua family has been a friend of Xavier School since the founding days. Their patriarch, Mr. Santiago Cua, was a personal friend of Fr. Desautels and the founding Fathers. They have not only helped raise funds for our school, they have also donated many physical facilities, including all of our Biology laboratories, in both the San Juan campus and this Nuvali campus."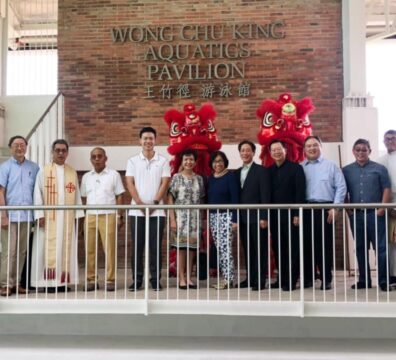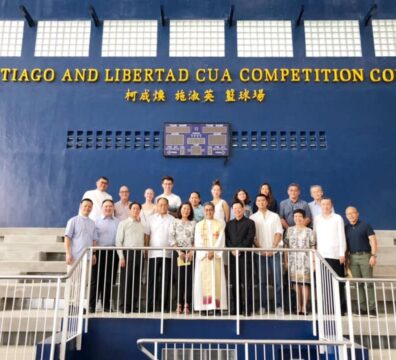 Final acknowledgements were given by Mr. Cua to Mr. Art Dy for donating the Athletics Workroom and the XS Class of 1969 for donating the Table Tennis Hall.
 The new Manuel Sr. and Socorro Fong Sports Center will certainly help the school achieve its vision of holistic education and formation. Xavier School Nuvali and the entire Xavier community are wholeheartedly grateful for the kindness and generosity of all their benefactors.