by Jonathan Richie Yap '94
Typically, most if not all Xaverians shun the limelight.  They prefer to go under the radar and let their good deeds speak for themselves.  There is a slight exception to this unwritten rule as the Alumni Association of Xavier School (AAXS) makes it a point to acknowledge alumni who have been recognized externally for their excellence or significant  contributions to society.  These awardees are cited and held up  as examples to inspire the rest of the Xavier community, especially the younger alumni and students.After a three-year absence, the AAXS held the 8th edition of the Xavier Alumni Excellence Recognition Night (XAERN) last 7 December 2022 (Wednesday), 7:00PM at the Angelo King Multi-Purpose Center (MPC) in Xavier School San Juan.  There were a total of 28 alumni honored during the red-carpet event and Japanese-themed dinner presented by the W Group.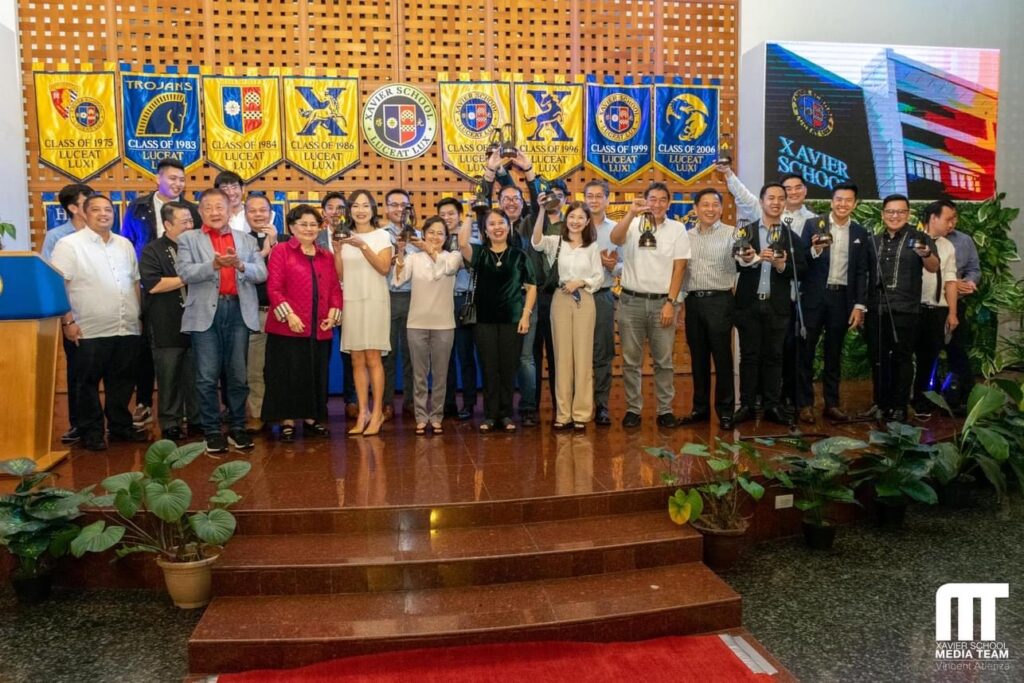 The fifteen XS99 Excellence in Academics and Scholastics awardees were led by Jacob Johann G. Wee '17 and Alexander Bernard D. Go '18.  Both Jacob and Alex graduated with double Summa Cum Laude honors from the Wharton Business School and the University of Pennsylvania.  President and CEO of JG Summit Holdings Lance Gokongwei '83 achieved this feat back in 1988 before joining the family business.
The other academic honorees included Hong Kong University of Science and Technology (HKUST) First Class Honours graduates Kyle Garret S. Lee Uy '17, Mark Christopher S. Uy '17, Matthew Johann S. Uy '17, and Sedrick Scott S. Keh '17.  
Hong Kong University's (HKU) Antonio Miguel L. Velasco '17 (youngest son of former AAXS Past Pres. Arnold "Jing" Velasco '83) also graduated First Class Honours, while National University of Singapore (NUS)'s Robin Christopher C. Yu '17 (youngest son of AAXS Past Pres Reginald T. Yu '84( graduated With Honors (High Distinction).  
From the University of the Philippines Diliman campus, there were Jian Lorenzo G. Chan '16, Kobi Christian S. Go '16, Nathan Joseph P. Oranga '16, Spencer Shaun S. Keh '16, and Trenton L. Tan '16 graduating Summa Cum Laude. Engr. Kobi Christian S. Go  went on to place sixth in the May 2022 Chemical Engineer Licensure Examination. 
Ryan Carl Y. Yu '11 graduated with High Distinction (Gold) for his Masters in Business Administration (MBA) from Harvard Business School. He was the Valedictorian of the Ateneo de Manila University Loyola Schools class of 2015, graduating with a degree in Management Engineering with a quality point index (QPI) of 3.99, the highest in recent history.   
AAXS Past Pres. Reginald T. Yu '84 received the UP Cesar E.A. Virata School of Business (formerly UP College of Business Administration and Accountancy) Distinguished Alumni Award.
Vesbo Pipes Excellence in Business and Entrepreneurship was bestowed upon 4th Mansmith Market Masters Awardees Michael G. Tan '83 and Jeffrey Stewart L. Go '86; Rice Bowl Awards Startup Investor of the Year Francis Joseph Augustine Y. de Leon '92; and 40th Agora Awards Outstanding Achievement in Entrepreneurship Sam Christopher T. Lim '99.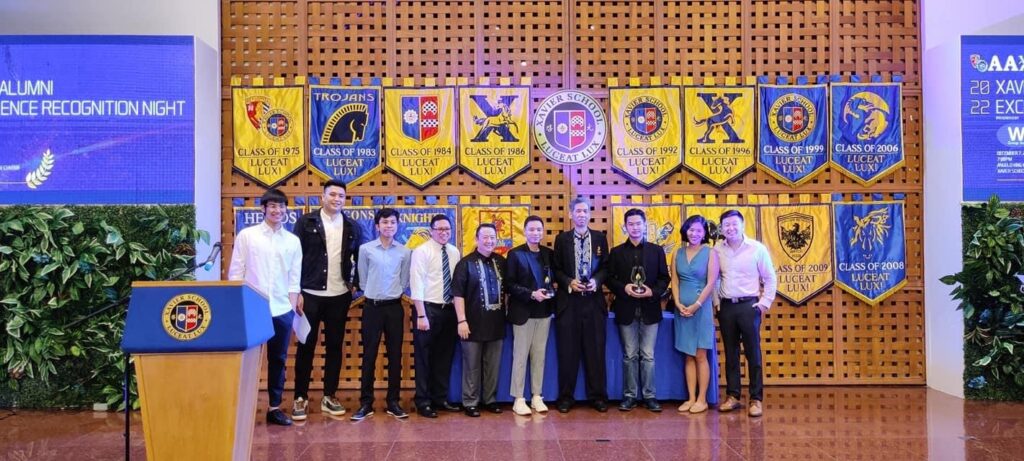 2020 PBA Philippine Cup Rookie of the Year Norman Aaron D. Black '14, 2018–19 MPBL Datu Cup MVP Gabriel M. Banal '08, 2019 SEA Games – Jiu Jitsu Bronze Medalist Gian Taylor C. Dee '06, and International Bowling Federation (IBF) Under 21 World Championship (Sweden) Bronze Medalist Marc Dylan O. Custodio '21 comprised the Orocan Excellence in Sports honorees.
HYE Enterprises Excellence in Arts and Literature recognized Teddy O. Co '75 for the Best Book on Art at 39th National Book Awards, Enrico Miguel P. Perez '19 for 2019 Palanca Awards First Prize – Kabataan Essay Category, and Antonio Daniel M. Bernas '09 as Tiktok Philippines Awards 2022 Top Sports Creator Awardee.
Crown Pipes Excellence in Government and Public Service was given to Atty. Michael Kristian R. Ablan '96 for being the 2020 Presidential Gawad Career Executive Service (CES) Award from the Office of the President, and Emerald PVC Pipes Excellence in Health and Medicine was presented to Dr. Marc Paul J. Lopez '96 for being 2019 The Outstanding Young Men Awards (TOYM) Awardee in Medicine for Colon and Rectal Surgery.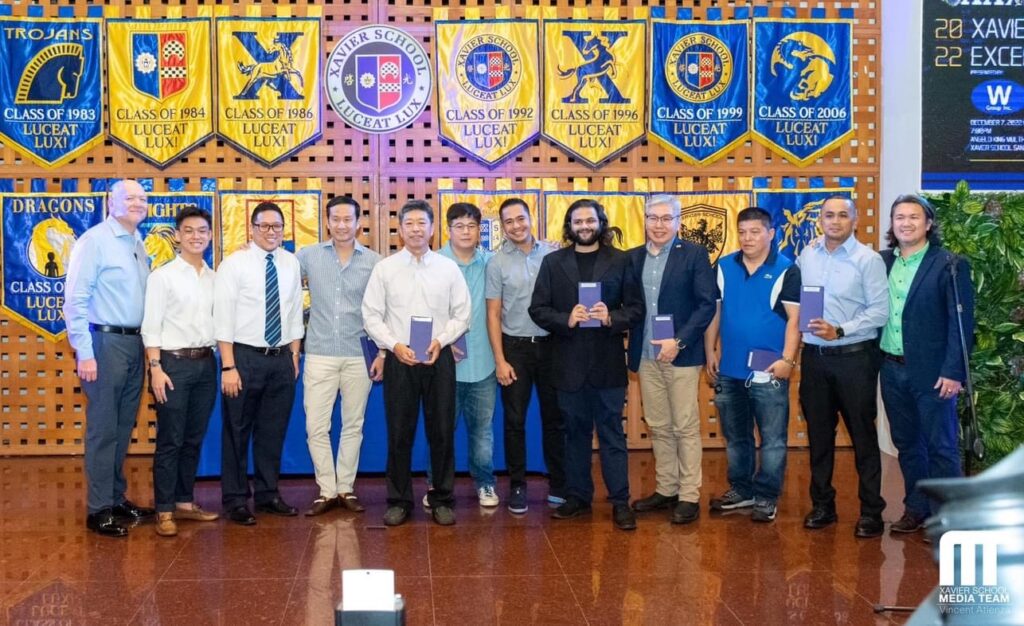 During his speech, AAXS Pres. Artemio Victor "Toti" A. Sanchez III '86 remembered Fr. Joseph S Ly Ching-Mei, SJ who passed away last 13 November 2022.  Fr. Ly was assigned to Xavier back in 1957 and served as Principal, Math teacher, Chinese teacher, department head, and chaplain.  Recognizing Fr. Ly's various contributions to the formation of Xavier alumni, Pres. Sanchez mentioned that the event will now be known as the Fr. Joseph Ly SJ Awards.
The awardees were given an antique lantern instead of the usual trophy or medal to symbolize Xavier School's motto — "Luceat Lux" (Let your light shine!), and to remind the honorees to be "persons fully alive, endowed with a passion for justice, and the skills for development" in all their endeavors.  The concept was also a brainchild of Pres. Sanchez who likes to think outside the box.
Pres. Sanchez also took time to honor some alumni who contributed greatly during his term.  The honorees included Past Excellence Recognition Night Chairman Arun Hemandas '01, Xavier Alumni Basketball League (XABL) Chairman Brian Brenton Chua '94, Kalinga Kontra Korona (KKK) Project Head Dr. Edgar Michael Eufemio '83, 2021 Homecoming Chairman Fritz Reinhardt Dy '96, Special Advisor John Cheng '94, San Juan CoVid-19 Kalinga Center (SJCKC) Manager Dr. Jonathan Dy '86, Brgy. Greenhills Kagawad Jonel Ong '86, and 2022 Homecoming Chairman Joseph Ngo '97.
The event was first held in December 2013, when five (5) Xavier Alumni comprised the twenty-five (25) Summa Cum Laude graduates from esteemed University of the Philippines Diliman Campus, including Batch Valedictorian and Highest Grade Point Average (GPA).  This inspired then AAXS Pres. Diosdado T. Ng '85 to come up with the annual event to celebrate the achievements of various Xavier alumni. 
To be recognized as an academic awardee, the alumnus must have graduated with Summa Cum Laude, Gold Medal, First Honors or related award from any local or international academic institution.  For sports, the athlete should have won a Gold Medal or First Place in a local contest, or a podium finish for international competitions.  For the other categories, the award should be conferred by a prestigious organization.  The Organizing Committee and the AAXS Board of Trustees have the final say on the composition of the awardees.
The 2022 edition of the event was chaired by 2024 Homecoming Chairman David Joseph Atienza '99 and Co-Chaired by AAXS Secretary General Jonathan Richie Yap '94.  Other members of the committee include Xavier School Parents Auxiliary (XSPA) Vice-Chair Wilson Lui Tan '87, Jim Howard See '94, Atty. Anthony Lemuel Lim '99, and Arun Hemandas '01.  The event partners included Gorenje, Maximus, and Luftonic.
HKUST's Mark Christopher S. Uy '17 and Matthew Johann S. Uy '17 are twin brothers, while UP Diliman's Spencer Shaun S. Keh '16 and HKUST's Sedrick Scott S. Keh '17 are brothers.