Xavier School San Juan celebrated the feast of St. Ignatius of Loyola, founder of the Society of Jesus and companion of the school's patron saint, July 31. As with any institutional mass, all students, faculty, and staff gathered at the Fr. Rafael Cortina, SJ Sports Center to observe the mass.
The mass was presided by Fr. Carlo Lacang, SJ, a former CLE teacher at Xavier School San Juan who was ordained into the priesthood last June 2023.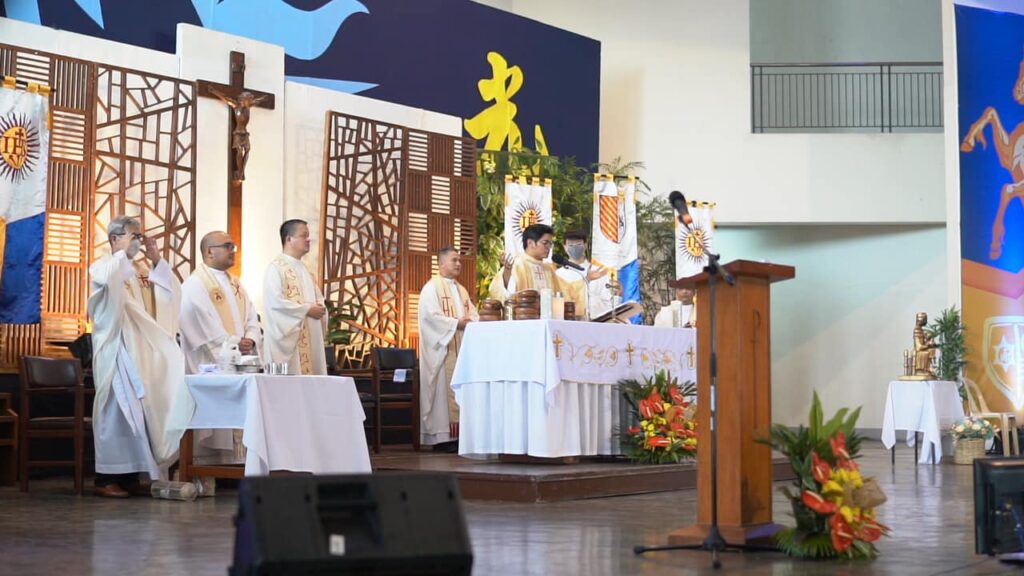 Prior to the mass, the CAdT officers, led by Mr. Jerry Feng, performed the silent drill, a re-enactment of St. Ignatius' offering of his sword to the Our Lady of Montserrat. The silent drill depicts one of the key moments in the life of St. Ignatius, the moment when he truly became a soldier of Christ. Following the silent drill was a procession of the statue and relic of St. Ignatius.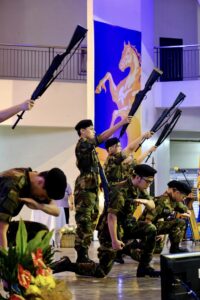 In his homily, Fr. Carlo talked about the founding of the Society of Jesus, as well as Ignatius's first companions. He highlighted the idea of companionship and how vital it can be in pursuing God's mission. He then introduced the first companions of the Society, namely St. Francis Xavier and St. Peter Faber.

Before the mass ended, Fr. Ari Dy, SJ, school president, also gave his remarks to the whole student body. He explained the policies the school will follow regarding school suspensions and the updated health protocols in the campus.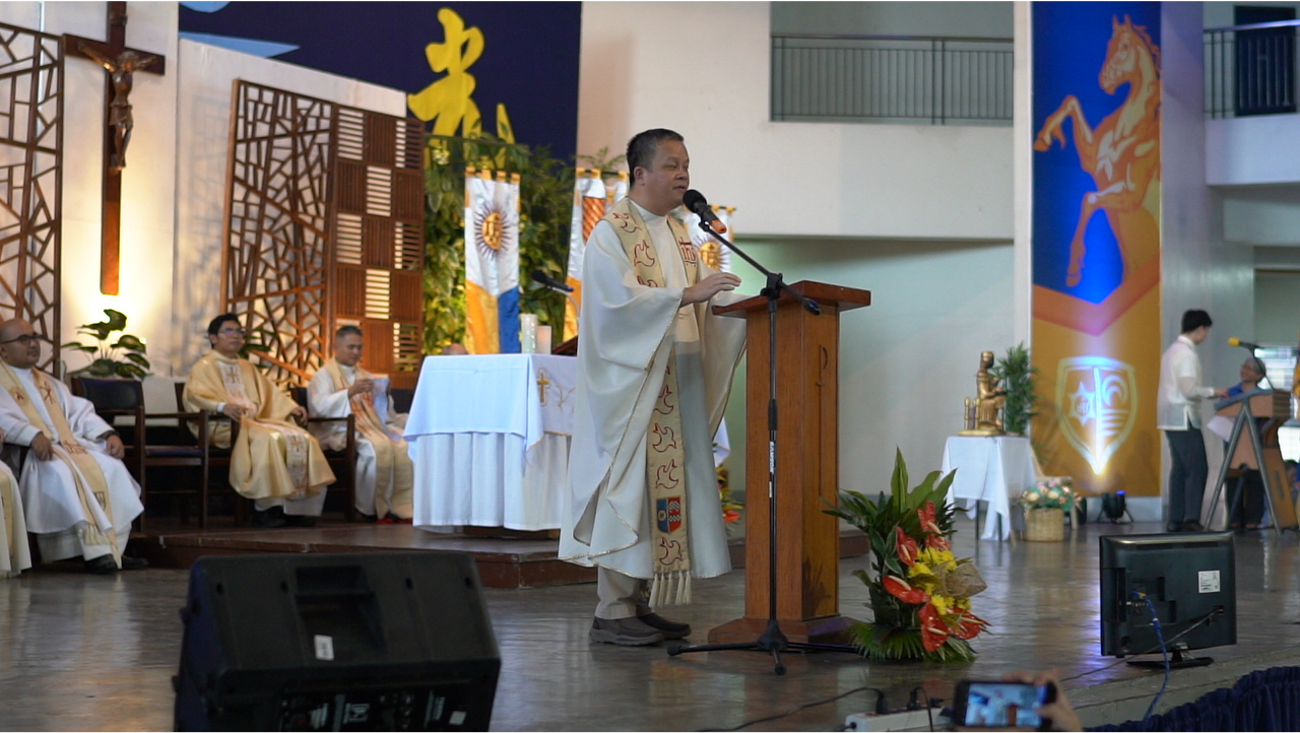 With the visit of Fr. Carlo as a newly-ordained priest, and the return of the CAdT's silent drill, this mass serves as a reminder of the school's complete transition back to a fully onsite set-up.

In related news, Xavier School sent numerous delegates from both the San Juan and Nuvali campuses to the provincial mass held at the Ateneo de Manila University, July 30. To further celebrate the Ignatian Heritage Days, Xavier School also held various activities related to St. Ignatius's life and story with prizes such as the Dinner with the Jesuits.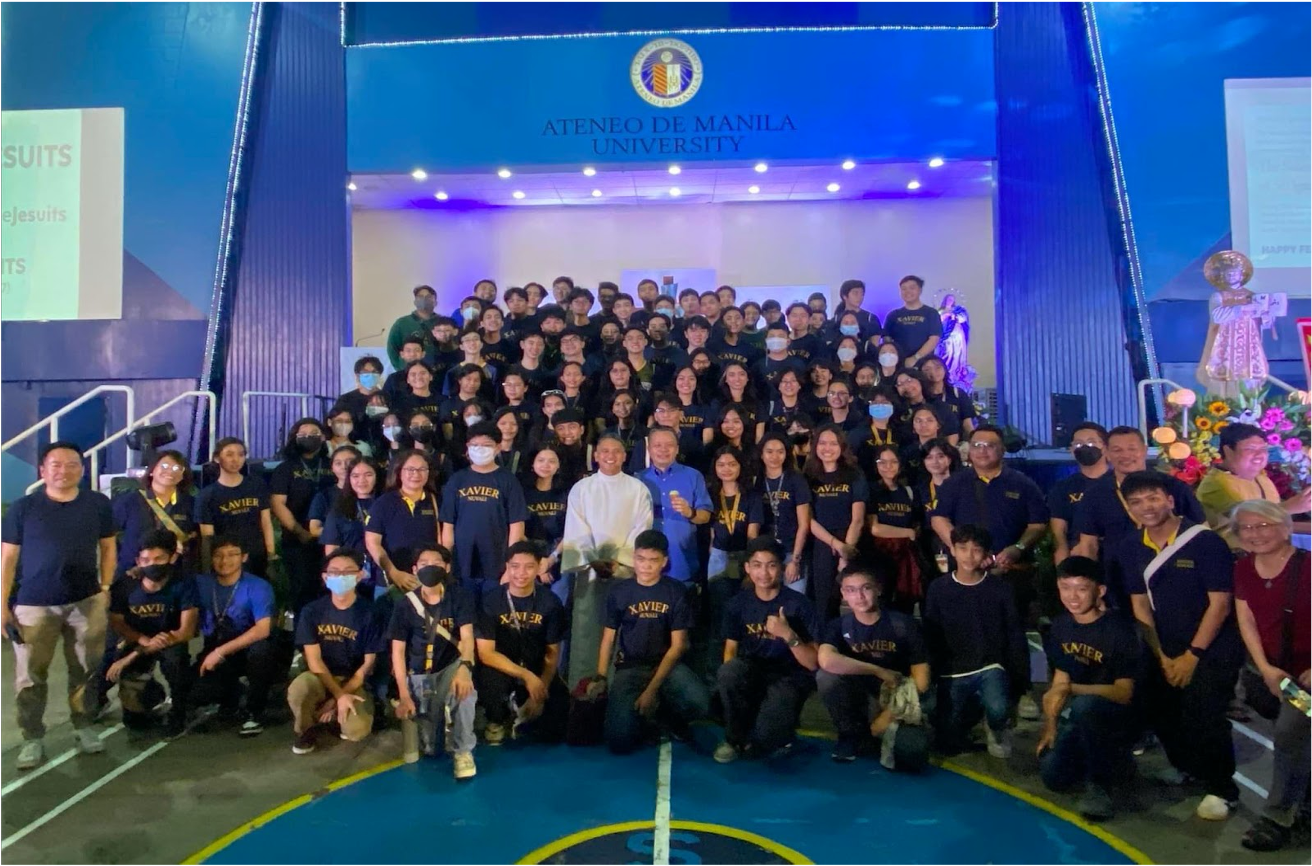 Read below Fr. Carlo's homily during the Mass:

Solemnity of St. Ignatius of Loyola
Xavier School San Juan
"Journeying in Faith and Companionship"
Luke 14:25-33

Do you have a squad? Like a squad of good friends who share the same interests as you? You and your squad—what brought you together? What keeps you connected? How well do you know one another? Superman has his squad (The Justice League). Iron Man has his squad (The Avengers). Linny (of the Wonder Pets) has her squad.

St. Ignatius too had his squad. In the beginning, there was Ignatius with his dormmates: Francis Xavier and Peter Faber—names many of us are familiar with. Then their squad grew to include Diego Lainez and Alfonso Salmeron and Nicholas Bobadilla and Simon Rodriguez. All of them were gifted. All of them were fired-up for the mission of spreading God's redeeming love. All of them were friends.

If Ignatius and his squad were to play Mobile Legends today, I'm sure they would be the dream team—the team to beat—because they complemented well one another's giftedness. Each was a team player; all were united in one mission: not competing against each other, not edging each other out, but supporting one another and rejoicing in the other's contributions and accomplishments. The members of this ML Ignatian squad would be unbeatable because they are "Friends in the Lord".

We won't know exactly who will be assigned tank, or fighter, or mage, or marksman, or support among the Friends in the Lord ML squad, but we certainly know their individual strengths. Francis Xavier was the TIRELESS MISSIONARY whose energy for mission was not dampened by the hardships of travel or by the rejection by some of those he served. He courageously traversed seas and lands to bring the good news of Jesus to ends of the world. Peter Faber was the COMPASSIONATE COMPANION who brought consolation to many troubled souls through his ministry of listening, conversation, and spiritual guidance. His experience of befriending his own brokenness made him, according to Ignatius himself, the best one to guide others through the Spiritual Exercises. Diego Lainez was the COURAGEOUS TRAILBLZER who, as the head of all the Jesuits after Ignatius, elevated schools as the most important Jesuit ministry because of education's power to form and make good Christian disciples—and he decreed that every Jesuit must teach at some point in his religious life. We have him to thank for, for these wonderful Jesuits who are your administrators, teachers, and chaplains. Alfonso Salmeron was the PROLIFIC WRITER who helped Ignatius write the Jesuit constitutions. He also devoted much of his pastoral ministry for the poor and the orphans. Nicolas Bobadilla was the POWERFUL PREACHER who won over the hearts of lukewarm Christians in Germany and Italy. Simon Rodrigues was the PASSIONATE DISCIPLE who championed Christin values in royal courts and attracted numerous vocations because of his unwavering witness to his evangelical vows. His strong and sometimes uncompromising personality, however, often caused troubled for Ignatius and led Rodrigues to be reminded (even reprimanded) to be obey, like a good Jesuit.

Finally, there was Ignatius Loyola himself, the DISCERNING LEADER. He had the gift of recognizing and harnessing all these wonderful talents, for the greater glory of God and the service of his people. Through Ignatius' leadership and prayers, not only did the "Friends of the Lord" squad gain apostolic success, they also expanded in number, attracting many young men to religious life because of their contagious passion and winning joy. They were joyful in their companionship—and joy attracts, especially Gospel joy, especially missionary joy.

The spirit of this companionship continues on in the Jesuits and lay mission partners, students and alumni and parents, that have built and continue to build our Xavier community. I think of the posters that decorate Xavier Schools halls which remind us of our school pioneers—lovingly given tribute with such adjectives as visionary founder, educator, mentor, and friend of the poor. And I am sure we can find apt adjectives and descriptions for our lay friends and exemplar alumni as well!

Sisters and brothers, Ignatius was never alone. He always had Jesus; and he always had his squad, even if most of the time they were physically distant from one another. To celebrate Father Ignatius during his feast day is to celebrate too the companions he called together in the Society Jesus—and the good news is that the squad now includes you—you who share in the richness of the Ignatian legacy. The Ignatian family includes all of us who are invited to journey in faith and companionship. We are invited to journey as companions in the classroom and as a larger school community towards the deepening of God's life of love and service in us.

No one is left alone. We are all called, and each has something beautiful and unique to contribute to the Ignatian squad. When Jesuits come together, when Xavierians come together, in lively faith and genuine companionship and generous offering of self—they are a sight to behold; and they can accomplish many great things with and for Christ! Let our celebration this year of the Solemnity of our patron, companion, and teammate St. Ignatius be a reminder that we are not alone, that we have Jesus with us, and that we are part of an Ignatian squad whose binding mission is the greater glory of God and the service of our brothers and sisters.