---

Date:           31 March 2023
To:               The Xavier School Community
From:          The Chairman of the Board of Trustees
Subject:      Appointment of the Next Xavier School President 
---
On behalf of Xavier School's Board of Trustees, I am pleased to announce the election of Xavier School's new president, Fr. Joseph Y. Haw, SJ, for a term of three years effective 01 April 2024. Fr. Haw graduated from De la Salle University with a Bachelor of Science degree in Computer Science (1999). He earned a Master of Arts in Theological Studies from the Ateneo de Manila Loyola School of Theology (2010), and a Doctor of Education degree major in Curriculum and Instruction from The Education University of Hong Kong (2022)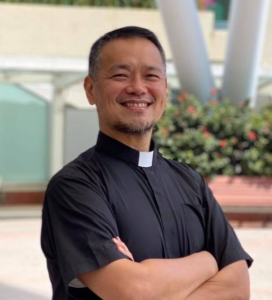 Fr. Haw entered the Society of Jesus in May 1999 and was ordained to the priesthood in April 2010.  He was assigned to be the Executive Director of the Philippine Jesuit Prison Service from 2010 to 2012.
From 2012 to 2019, he served as School President of Ateneo de Iloilo – Santa Maria Catholic School. During his term, he focused on improving teacher and learner well-being, teacher formation, curriculum, and organizational development. He strengthened the Chinese Language program, oversaw the school's transition to integrated ICT for teaching, learning, and administration, and initiated the construction of the new Administration and Grade School Building project in 2013, which was completed in 2017. 
He has served as trustee for Jesuit schools, including Xavier School from 2014 up to the present. Fr. Haw spent his regency at Xavier School, as a member of the high school Filipino Department from 2004 to 2006. He is currently participating in the Jesuit tertianship program in Australia.
Fr. Haw will join the Xavier community in September as the Campus Minister of Xavier School Nuvali. He will also join the President's Council and spend the rest of the school year becoming familiar with his future role.
On behalf of the Xavier Community, I would like to take this opportunity to thank the incumbent School President, Fr. Aristotle Dy, SJ, for his leadership for what will be eleven years when he steps down on March 31, 2024. He plans to go on a much-deserved sabbatical leave before taking on a new assignment from his Jesuit superiors.
I congratulate and welcome back Fr. Joseph Haw to Xavier School.  
Let us extend our usual support and cooperation to Frs Dy and Haw in the coming year of transition.
 Thank you.
(signed)
Mr. JOHNIP G. CUA
XSI Chairman of the Board