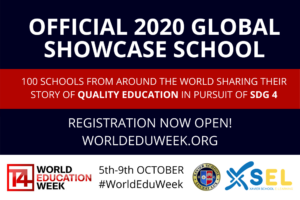 On Oct. 7, 2020, Xavier School, San Juan participated in World Education Week's Global Showcase of 100 schools. Xavier School was one of two school in the Philippines chosen to be a Global Showcase School. On Oct. 8, 2020, the second school, Alem Elementary School in Pudtol, Apayao, showcased their program that reaches out to indigenous communities to bring them quality and accessible education.
The Xavier School  showcase, entitled Connected Learning: Leveraging Pedagogy, Relationship, and Technology in Education in a Pandemic, presented the school's success in transitioning into online distance learning in light of the pandemic that has affected education on a worldwide scale.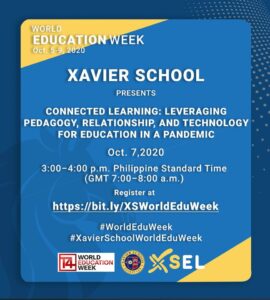 We will showcase our Online Distance Learning and EdTech journey to help the other schools in the Philippines cope with the "New Normal."
 

Combining the best of Jesuit education tradition with innovation, Xavier School is a pioneer in the use of technology among schools in the Philippines. Our school is an innovative and compelling learning environment that engages students and provides tangible evidence of academic accomplishment. We continue to expand the application and integration of technology tools in learning and teaching through various programs initiated by the Grade School and High School units, such as the inclusion of coding and robotics in the STEAM curriculum, creation of Makerspace opportunities, and support for more relevant professional learning for teachers, locally and internationally.

 

This school year, the pandemic has prompted us to shift to online distance learning. Our new program aptly called Xavier School E-Learning or XSEL will enable our students to be "persons fully alive, endowed with a passion for justice and the skills for development" through meaningful learning experiences, facilitated outside the confines of the physical classroom. XSEL is adapted for diverse contexts, designed for academic excellence, and aimed at holistic formation of the Lifelong Learner.
The moderator of the event was Mr. Jude Liao, a Xavier alumnus (XS '12) and the school's International Programs Coordinator. Fr. Aristotle Dy, SJ, School President, recalled in his opening remarks the beginnings of Xavier School's journey in integrating technology in education through the one-to-one program that started ten years ago. 
The panelists for the showcase were Mrs. Theresa Ladrido, High School Principal; Mr. Christian Bumatayo, High School EdTech Coordinator; Mr. Jim Tuscano, Grade School EdTech Coordinator; and Mrs. Jane Cacacho, Grade School Principal. 
The panelists presented five key tenets that became the basis for designing Xavier School's  brand of online distance learning. 
Mrs. Ladrido talked about the importance of creating a structured learning environment and being flexible and relevant.
Students work best when they are provided with a predictable learning environment supported with routines to help them focus and manage their tasks efficiently and effectively.  The learning environment is similar to what they are familiar with to give them a semblance of normalcy in the midst of the extraordinary situation. 

 

There is a need to study the current structure of the school. Decisions regarding the length of the school day and the duration of each learning/subject block were carefully decided on to consider the attention span, the amount of screen time, and the unique needs and concerns of the varying ages of the students.
The curriculum should be audited to make it relevant to the times. Student's context is essential in a learning environment.  Due to the Covid-19 pandemic, there is a need to adjust curricular goals to prioritize key knowledge and skills essential to our present context. 

 

Xavier School's curriculum has been purposefully decongested.  Skills and knowledge have been carefully selected and designed to make sure they are relevant to the needs of the learner and the world, will prepare them for higher learning, and are age-appropriate. These essential life skills, which are anchored on the school's core values–the 6Cs–focus on 21st century skills such as literacy, numeracy, communication, creativity and critical thinking, research, collaboration, self-management, and local and global citizenship.

 

Moreover, the school also puts a premium on CONTEXT, i.e., consideration of the learner's environment, needs, interests, and readiness.   Given this, flexibility will be afforded in the following areas: Academic and Discipline Policies,  Assessments and Grading, Academic and Non-Academic Activities, Schedule and Deadlines
Mr. Bumatayo talked about providing balanced education and holistic formation to ensure the students' overall well-being.
As students develop academic skills, knowledge, and understanding, teachers will also continue to provide guidance, support and mentoring. Focusing on holistic formation of students, XSEL will not be limited to academics, but will include formation activities as well. Students will be given opportunities to engage in spiritual growth experiences, health/fitness and recreation activities, and other interest-based extra curricular activities. The Guidance Program in the different grade levels will also be adapted to cater to the needs of the learners in their new educational context.
Mr. Tuscano emphasized the importance of keeping the online distance learning environment safe and secure. 
Data Privacy and Child Protection policies will continue to be observed. 

 

When deemed necessary, synchronous sessions will be recorded for security and future reference if necessary. Student personal data, images, and classwork including videos, will only be collected for official school or academic purposes. Moreover, submission of such materials will only be done through official platforms determined by the school.  The school will comply with age requirements and ensure appropriateness of apps that will be used by the students.
Mrs. Cacacho highlighted the importance of being  collaborative and supportive in communicating and working with students, parents, and teachers. 
Collaboration between stakeholders of the school will ensure the success of any program.

 

Fostering relationships, i.e., School-Home, Teacher-Student, Student-Student, remains an important part of schooling, albeit distant and online. 

 

XSEL was designed to ensure that students are also given time to collaborate with their peers. Group activities and sessions are purposefully designed to help students build connections with their peers and form bonds with their teachers despite the physical limitations.  In the lower grades, where the children require much adult supervision, the school will work very closely and regularly with the home.   Orientation and training sessions on how to navigate the apps will be available. Focused group discussions and surveys will also be done to solicit feedback that can continuously help improve the program and curriculum. 
Behind the scenes were Mrs. Jessica Demegillo who served as overall coordinator, Mr. Melvin Gallardo who handled technical logistics, Mr. Paolo Suapengco who handled marketing and social media, Mrs. Clarisse Ednacot who handled internal communications, Mr.Dominic Sales who handled visual assets, and Mr. Michael Abello who took care of the technical run and live streaming of the event. 

The Xavier School Global Showcase may be viewed in the video below. 
Xavier School would like to thank T4 Education and World Education Week for this opportunity, the teachers who helped in the preparations for the event, and the participants who viewed the showcase from the Philippines and all over the world.
Luceat Lux!