01 August 2023

Dear Parents,

Greetings!  We would like to provide an updated set of guidelines on the suspension of classes due to holidays, typhoons, and other calamities for SY 2023-2024:

The School will abide by national and local government decisions regarding public holidays.
SUSPENSION OF CLASSES DUE TO WEATHER AND OTHER CALAMITIES
(based on DepEd Order No. 037, s. 2022)

The current advice from the DepEd is that under Tropical Cyclone Wind Signal (TCWS) #1, classes are automatically suspended in public schools. Private schools are given the option to follow their own guidelines.
For Xavier School, the following will be generally implemented:
When TCWS  #1 is raised by PAG-ASA by 5:00 AM, all classes from K-G12 will proceed as scheduled.
When TCWS #2 is raised by PAG-ASA by 5:00 AM, work and classes from K-G12 are suspended.
In other instances of inclement weather, the school may declare a shift to online learning. Such an announcement would be made before 8:00 PM of the previous day. 
In the absence of typhoon signal warnings from PAGASA, suspension of classes may be announced by the LGU or the national government, and these have immediate effect without need for a further announcement from the school. 
 SUSPENSION OF CLASSES IN OTHER CASES
In the case of cancellation of classes during the day, or for the afternoon session, the dismissal schedule below will be followed: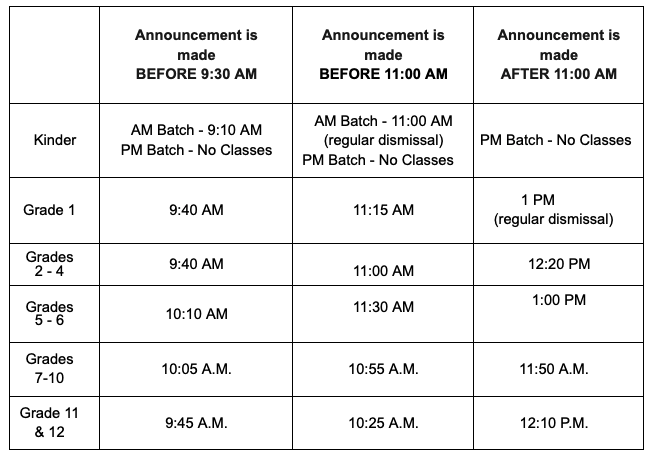 In the event that the suspension of classes is announced before 7:30 AM (or before the start of your son's classes for Batch 2 in the Grade School) and your son is already in school, please fetch him immediately.

When classes have begun, no indiscriminate and hurried withdrawal of students shall be permitted to enable the school authorities to implement safety measures for all students. The procedure for dismissal during regular days will still be followed; i.e., assigned exit gates, use of fetcher's card, exit I.D., etc.

When classes are suspended, the school authorities will exert every effort to inform the parents of the dismissal time through the official Xavier School website, Facebook, Twitter, and Instagram accounts as well as through the XSPA officers.
PARENT'S RESPONSIBILITY
If no order for the suspension of classes has been issued, parents have the ultimate responsibility for determining whether their children should go to school, taking into consideration the health and safety of their children.
RESUMPTION OF CLASSES
Classes shall resume the following day unless otherwise announced by the Department of Education, local government, or school authorities.

If the suspension was done before 7:30 AM, the original day in the cycle will be followed the next day, i.e., if it is Day 1 and classes are suspended before 7:30 AM, the next day will still follow the Day 1 schedule.

If the suspension took place during the day, the succeeding day in the cycle will be followed the next day, i.e., if it is Day 1 and classes are suspended after 7:30 AM, the next day will follow the Day 2 schedule.

In the event of suspension of classes during examination days, the sequence of tests as originally specified will be followed when classes resume, i.e., if Term Test Day 1 is suspended, tests scheduled for Day 1 will be administered when classes resume.

To keep abreast on important school matters, you may refer to the school's website, and to the following:

● http://facebook.com/xavierkuangchi
● https://twitter.com/xavierschool_sj
● https://www.instagram.com/xavierschool_sj/

Thank you for your attention to these important matters.


Sincerely yours,

(sgd.)
Fr. Aristotle C. Dy, S.J., Ph.D.
School President