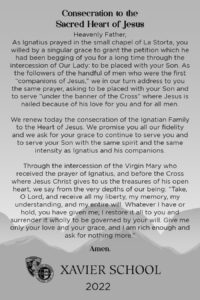 With today's Feast of St Ignatius, we bring to a close the worldwide celebration of the Ignatian year marking the 5th centenary of the conversion of St Ignatius in 1521. Together with the Jesuit family, we shall consecrate ourselves to the Sacred Heart of Jesus.
We are all always invited to conversion in the areas of life where we have become complacent. To remain in our comfort zones is the easier way. But our Ignatian heritage is to discern God's will for us, and to have the courage to pursue it with excellence! 
Today and every day, let us strive to see all things new in Christ !  Magis. Luceat Lux. Happy Feastday !
Fr. Ari Dy, SJ
School President