Date:     25 August 2022
To:          The Xavier School San Juan Community
From:    The School President
Re:        Renewable Energy at Xavier School San Juan
———————————————————————————————————
I will always remember 2013 as the year I completed my doctoral studies and returned to my alma mater to serve as School President. It was also the year that Pope Francis, the first Jesuit Pope, started his papal ministry, so he has been a constant source of inspiration. His first encyclical in his own name, Laudato Si, calls attention to the urgency of taking care of God's creation for the sake of future generations.
One particular area of concern is the carbon footprint we all expend when we consume energy, travel, and undertake so many human activities. Thus, we are all enjoined to achieve carbon neutrality by striving to offset our contribution to carbon emissions with carbon removals.
Both Pope Francis and the worldwide Jesuit family are committed to "caring for our common home" by implementing forward-looking sustainable practices. In particular, we support the move away from the use of fossil fuels to achieve greater carbon neutrality. Our biggest carbon emission is the use of energy from non-renewable sources like coal. While installing solar panels has been a popular way to address this concern, there are actually other sources of renewable energy such as wind and water.
I am glad that this week, our school is shifting 40% of our electricity needs to hydroelectric power through our partnership with SNAP or SN Aboitiz Power. We are the first school to partner with them for renewable energy. It is important to note that the cost of this renewable power source will be the same or cheaper than our current reliance on fossil fuels, thus making it a sustainable practice.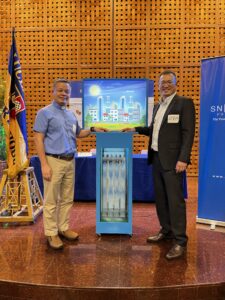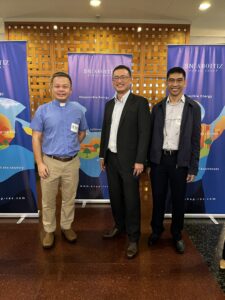 This initiative continues our efforts to promote a greener lifestyle, especially this year when one of our thrusts is to "care for communities and creation." Along with many other potential projects to be organized by our Environmental Advocacy Committee, I hope that we all experience "ecological conversion" and be motivated to undertake the lifestyle changes that are necessary for us to properly take care of God's creation.
Thank you very much, and God bless you all.
(sgd.)
Fr. Aristotle C. Dy, SJ, PhD
School President