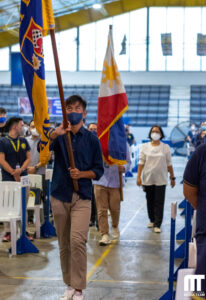 On August 8, 2022, the High School Annual Reading of Honors was held at the HS gym. The event gathered onsite students, awardees and their parents, faculty, administrators, and staff to a celebration of excellence for XSEL school year 2021–2022. Online students were able to view the program through a live streaming on the school's Youtube channel. 
Ryan Kendrick Lim (XS '16) was the guest speaker for the event. He was introduced by his formerMath and homeroom teacher, Mr. Ferdinand Aguila (SHS Math Curriculum Leader) who fondly recalled Ryan's determination in in academics and  active involvement in school activities. The full speech may be viewed here. 
Ryan delivered a very meaningful and relatable speech to both the students and teachers. One of the most memorable parts of his speech was when he said: 
So here I am, just an alumnus, standing in front of you, telling you that it's too soon. It's too soon to throw in the towel, to succumb to mediocrity, to waste the time we have here in Xavier. Each year, each day, each second, it's your chance to be your best – whether it's to be a friend, a teammate, or a brother. I implore each and every one of you to treat each moment as a challenge to grow whether it's in your academics, your clubs, your relationships. I tell myself that even just 1% everyday will compound over time. That much, you owe to yourselves. I continued to push and be disciplined until this day because when I graduated UP, I wanted to leave with no stone unturned, without feeling like I could've done more, that I could've been kinder, that I could've said less, that I could've tried harder. No regrets.
A copy of the complete speech may be viewed here. 
The following students were awarded during the ceremony: 
| | |
| --- | --- |
| XSEL AWARDEES |   |
| KARL MATTHEW TIENG CHUA | 11A |
| EVAN SEBASTIAN MANRIQUE GARCIA | 11A |
| RYAN JAYDEN PATAROQUE LIM | 11A |
|  HALEY NICHOLAS AIDDEN GOTAN YAP | 11A |
| DAMIEN MAREK PE GO | 11A |
| ELIJAH RAFAEL SARDUA TAN | 11A |
| STEFAN NIKOLAI JUANILLO UY | 11A |
| LAURENCE CRISTOPHER ANTONINO AMANTE | 11A |
| KYLE GABRIEL SILVA CACHA | 11A |
| EMILIO JOSE CARLOS CARPIO | 11A |
| JULIAN MATHIAS ONG CHENG | 11A |
| ETHAN KENZO CHENG CHUA | 11A |
| JACOB VICTOR ROJAS CHUA | 11A |
| ZACHARY RYAN LIM GAN | 11A |
| JAN ANDRE DELA CRUZ DELA SANTA | 11B |
| JOSH WYNN GOKONGWEI LIM | 11B |
| JOHN PIERRE CHRISTIAN CHIU-CARAG NGO | 11B |
| BREINDEL MARCUS LIMPIN ONG | 11B |
| JOSE LORENZO QUIRANTE RADOVAN | 11B |
| ENRICO DOMINIC ANG SY | 11B |
| LEONARDO MIKO ZAMORA TENGSON | 11B |
| JUDE EMMANUEL LIM UY | 11B |
| JORGE FRANCISCO SORIANO VILLADOLID | 11B |
| JOHNLEX STEPHEN NATIVIDAD WONG | 11B |
| TOBEY NG GAERLAN | 11B |
| ARISTOTLE MILES CHUA ONG | 11B |
| KURT FREDERICK PUNO ORANGA | 11B |
| RIGEL JOHN LOYOLA RAMIRO | 11B |
| JEAN KENSHIN LIM SARMIENTO | 11B |
| WESLEY JOSHUA HENDRADINARTA TANCO | 11B |
| RONNIE JOSHUA ANG COCHING | 11B |
| RICO DANIEL YU SEE | 11B |
| KIEFFER MICHAEL DE CASTRO SINFUEGO | 11B |
| SEUNG HYEUN YOON | 11B |
| MARCUS SEAN KHO CHOC TANSIONGKUN | 11F |
Xavier Awardees
SECTION
1.

        

Maximino Dalmacio Suaco Juan 

Grade 7F
2.

        

Karlos Mateo Montemayor Nograles

Grade 8A
3.

        

Marcus Jaden Go Castro 

Grade 9C
4.

        

Kyle Zachary Lao Chua-unsu 

Grade 9C
5.

        

Marc Andrei Que Villegas 

Grade 10F
6.

        

Lorenz Albert Maliwat Tortona 

Grade 11E
Magis Awardees
 
1.

        

David Quirino Pacheco

Grade 7C
2.

        

Sean Pio Derrick Santos Angeles

Grade 8A
3.

        

Faustin Miguel Lee Saavedra

Grade 8B
4.

        

Ethan Jacob Go Liao

Grade 8C
5.

        

Hansly Kendrich Cheng Saw

Grade 9A
6.

        

Stephen John Uy Cue III

Grade 9A
7.

        

Enrique Raphael Martir Doria 

Grade 9B
8.

        

Lucas Gabriel Suaco Manuel

Grade 9D
9.

        

Ryan Christoffer Salonga Lao 

Grade 9E
10.

    

Jose Miguel Nuñez Guiang 

Grade 10A
11.

    

Marco Roberto Del Rosario Valenton 

Grade 10A
12.

    

Sky Pamposa Angeles 

Grade 10B
13.

    

Gian Paulo Velasco Mangio 

Grade 11B
14.

    

John Benedict Dy Quintin 

Grade 11F
15.

    

Franz Joseph Pineda He

Grade 11G
After the awarding proper, Mrs. Ma. Theresa Ladrido, High School Principal, lead the oath taking of the Student Council Executive Board, club and committee heads, and class officers.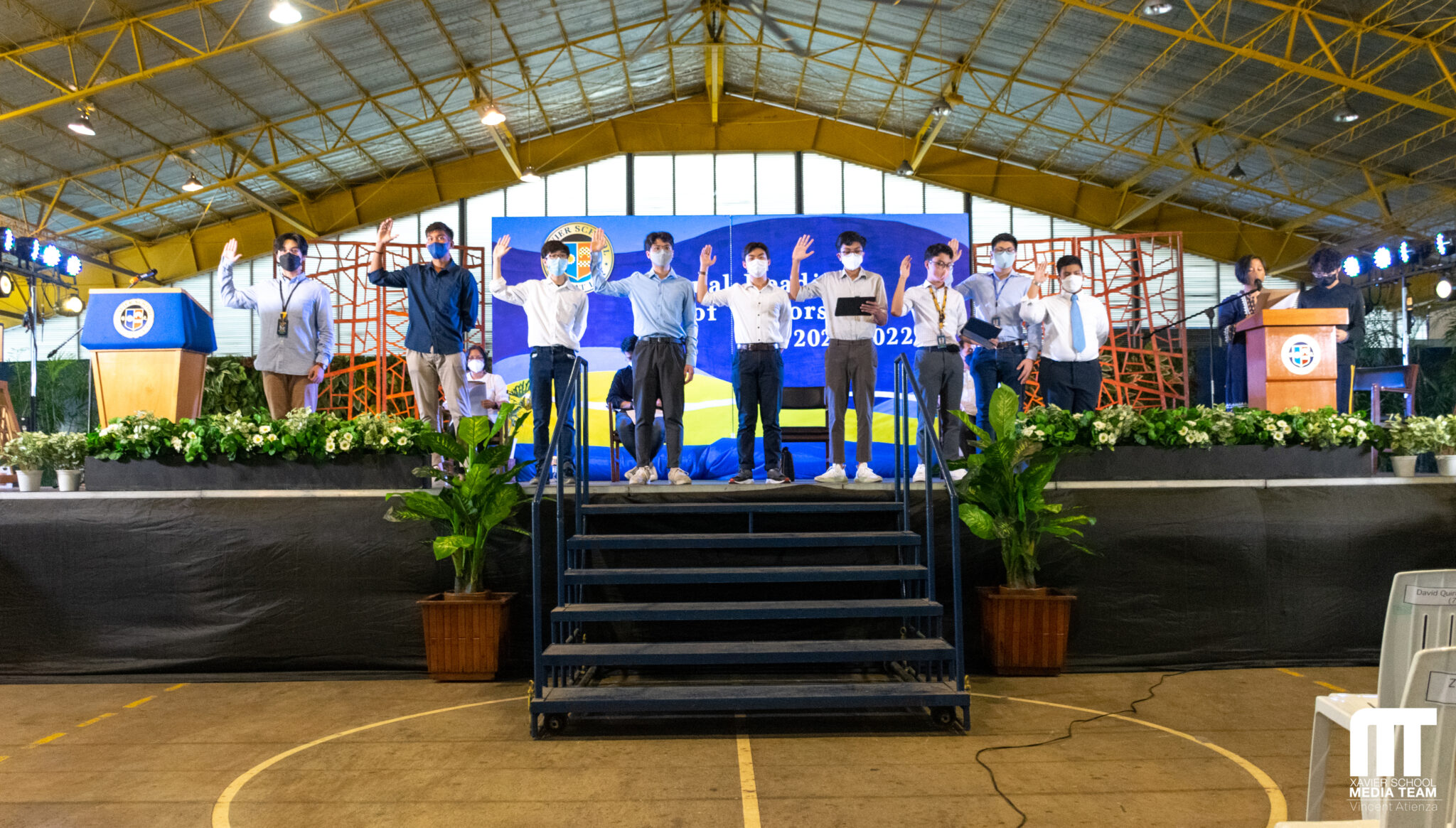 The event concluded with a closing message from Fr. Aristotle Dy, School President, who congratulated the awardees and shared his message about the importance of truth, especially in the current times. 
Photos are provided by the XS Media Team. Video recordings of the event may be viewed below.