Fr Aristotle Dy, SJ, School President, presided over the 9th Day Novena Mass for the repose of the soul of Dr Erickson Chiu, XS '75, on September 8, 2021, 8:30pm Manila time. The schedule accommodated batchmates who are based abroad.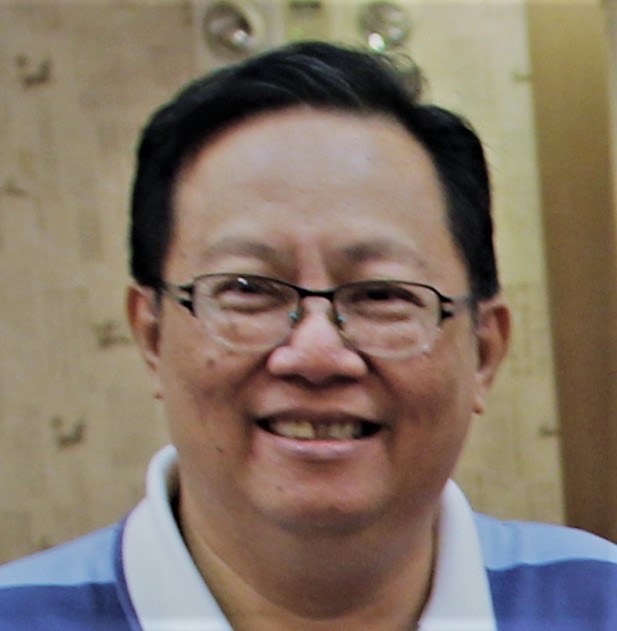 Below are testimonials from Dr Chiu's close friends.
Testimonial 1:
Erickson and I were batchmates in Xavier and classmates for all four years of high school. It wasn't until these last ten years that we were able to reconnect and get closer. From the conversations we've shared, these are some interesting tidbits I've learned about Erick.
A little background on Erick aka "Tigas" to his peers, a moniker given to him because of his stiff stance and gait. Although it may seem condescending to many, he fully embraced it. We recently found out the reason he was this way was because of an accident he sustained as a baby when he fell down a flight of stairs that actually caused him to have a metal plate inserted in his skull.

He is a devotee of Our Lady of Lourdes, he constantly prayed to Mama Mary asking Her to help him pass his boards and in turn vowed that will serve the poor and under-privileged in her honor.

After Med school he had to do his "Rural" rotation in Bacolod at a provincial hospital. He worked Mondays to Fridays but what really impressed me about Erick is how he took on that vocation wholeheartedly. On most weekends the NPAs would bring him up the mountains to look after the wounded and sick "katutubos" then he notices all these children that needed help so he made it his mission to go back as often as he could to bring notebooks, crayons, pens, supplies and even medicine. Mostly samples med reps offered to him (hahaha) :))

Upon his return to Manila, Doc Erick decided to set up his clinic in Bagong Barrio to serve the slum community in that area. He knew that by doing so he had to probably do consultations pro-bono, even giving away medicine for free. He prided himself in giving away branded medicine and he always says "Good Medicine makes Good Doctor."

Erick was selfless to a fault. The biggest paradox about him was that he would bear his patients' cross but would never burden anyone. He gave away branded medicine to his patients and to people he doesn't even know but, to himself, he settled for generics. He wasn't a man of great means but he still gave generously; so much so that he left almost nothing for himself which caused him to neglect his own health. One of the moments he cherished was when our batch donated medicine to his clinic and he was able to help a lot of people. This brought him so much joy and pride.

The classic introvert, Erick internalized most of his problems but he was most comfortable amongst friends. He enjoyed breakfast at Torch and lunches at UNO. His demeanor shifts, shoulders would relax, eyes would light up, and he'd engage in deep conversation. He shared that great company, good conversations and laughter would transport him to a place of peace. I guess in those moments he forgets all his problems.

I'll end it with this. Erick is a simple and humble man. He was a devoted father and he truly embodied that Xaverian spirit of serving others. If there's ever a thought he lived by, it's that "God will provide!"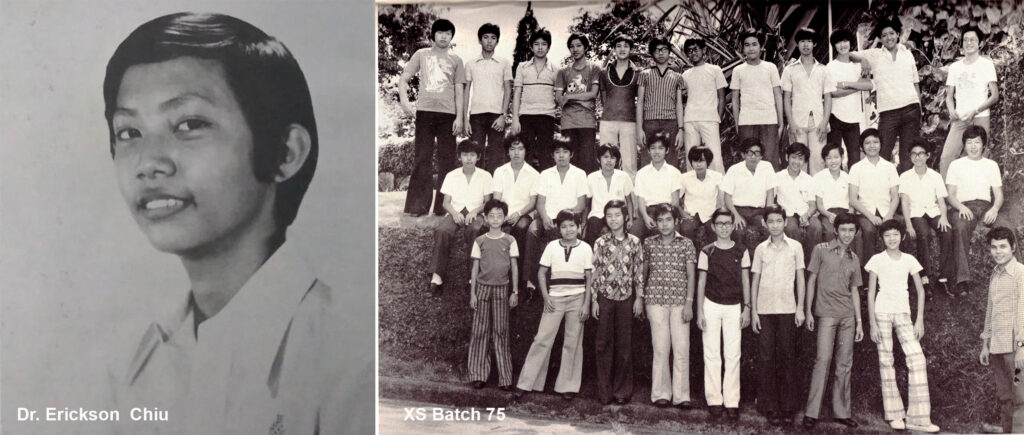 Testimonial 2:
Dr Erickson Chiu (+) was an unselfish doctor who served the poor. He was always busy. In the few times that he would join our regular breakfast group, he would always leave early to attend to the needs of his patients. This was not financially rewarding but he carried on. His patients were mostly his poor neighbors who can hardly pay him and they had no one to turn to when they are sick.
He was already a very caring doctor when he started. After graduation from UST Med School, he was assigned to Negros for his rural requirement. While there, he treated everyone, ordinary barrio folks, constabulary soldiers, and even NPA rebels. He would be roused from his sleep by constant tapping on his window. He would take lengthy hikes up the mountains to treat his discrete new group of patients, the sick and wounded rebels.
Over time, the NPA tried to recruit him because a medical doctor would be extremely useful in their struggle. They did not even bother to indoctrinate him with Maoist manifesto. Instead, they did something more subtle. They tried to marry Doc Erick to one of their pretty Amazonas. According to Doc, the "marriage" was never consummated. Like most people, my mouth dropped open in disbelief. Doc Erick was very consistent. He never changed his story. And sadly, we will never hear more about his Rumble in the Jungle.