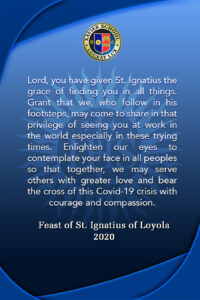 On July 30, 2020, the Xavier School community celebrated the Feast of St. Ignatius of Loyola through a Mass held at the Sacred Heart Chapel at the Senior High School building of the San Juan Campus. This was streamed live on the Xavier School YouTube channel. The Eucharistic Celebration also served as the Institutional Red Mass, invoking the gifts of the Holy Spirit for the opening of classes for XS San Juan and Nuvali. Fr. Aristotle Dy, SJ, School President, presided the Mass. Campus Ministers, Fr. Arnulfo Bugtas, Jr., SJ and Fr. Michael Pineda, SJ, concelebrated with him.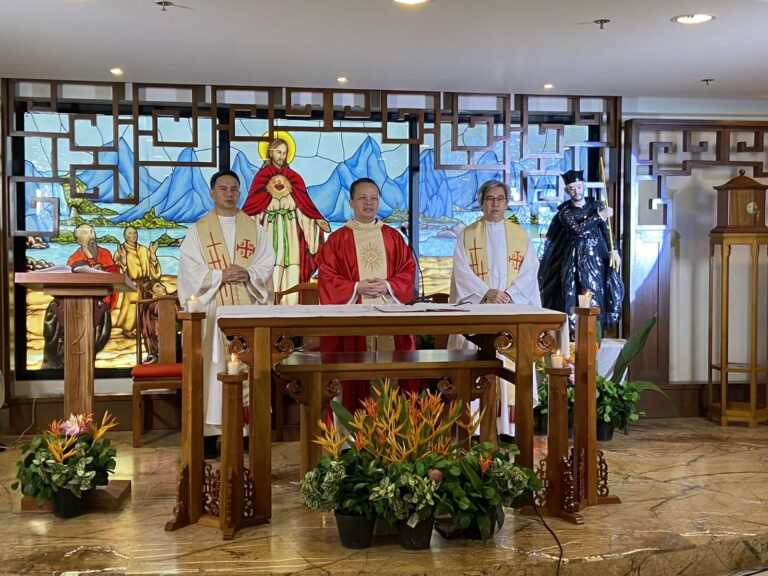 The following was the homily shared by Fr. Ari:
The theme of our heritage days this year is Finding God in all things, Finding God in the pandemic. We are trying to reflect on what God is doing in the world at this time, as the forces of nature have unleashed this virus upon us that has so disrupted our lives. As I reflected on the life of Ignatius Loyola, I found that there are moments in his life that can help us make sense of our experience. 

 

First, as you know, Ignatius was raised as part of the noble class and trained as a soldier. At the famous battle of Pamplona, his leg was shattered by a cannonball and the experience changed the direction of his life. 

 

Maybe we can think about Covid-19 as a cannonball experience. Whether we have fallen sick or not, the virus has changed us, perhaps forever. Our way of life may have changed permanently.

 

Second, the cannonball experience led Ignatius to a long time of reflection. He recuperated in his hometown of Loyola, where he had nothing to do but read the Life of Christ and the Lives of the Saints. He began to have holy desires and thought that he should be a soldier for Christ, rather than fight in worldly battles. He made a pilgrimage and offered his sword at Montserrat, and then he spent almost a year in Manresa, praying by the river and inside a cave, learning to pay attention to God's movements within himself. We can think of these moments in the life of Ignatius as his quarantine time, a period of lockdown where he had to journey within himself, and find God dwelling there and communicating with him. 

 

We have also had our time of lockdown, in fact we are still in it. Our movements are restricted because of the quarantine, and it's important to be committed to it for the sake of our health and that of others. I would hope that beyond binging on online games and shows, this has also been a time to journey within, to know ourselves better; to appreciate our loved ones and spend quality time with them; to encounter God in the renewal of nature. 

 

Third, after his time of isolation from the world, Ignatius begins to pursue his desire to serve Christ. He realizes that his training as a soldier is not enough. He has to study Latin and many other subjects, so as an adult, he goes back to school and becomes classmates with young people who are your age. Imagine that if you can; maybe it's like having me or your favorite teacher sitting beside you, a student just like you. 

 

Ignatius goes to school because he knows he cannot be of much service if he is not educated, and so it is for us. Pandemic or not, learning has to continue, so here we are. Unlike you, your teachers and your school did not have a 4-month vacation. We have been preparing to give you XSEL. 

 

Ignatius goes to school, gathers friends around him including Francis Xavier, and together they become the Society of Jesus, a new band of brothers that will help people find God in all things. Wherever they went, the explained to people about good spirits and bad spirits. 

 

Discernment of spirits

Today we are wearing red, because this feast day Mass of Saint Ignatius also serves as our Mass for the opening of the school year. If we had started in June, we would have had the Mass of the Holy Spirit with which Catholic schools start the academic year.  It is a time to invoke the gifts of the Holy Spirit upon us as we begin another cycle of studies.  

 

This is a theme that is in fact close to the teaching of St Ignatius, because discerning the spirits that move within us is a key dimension of his Spiritual Exercises. The Examen that we practice regularly is in fact aimed at paying attention not just to our activities, but most importantly to our interior movements. Which ones come from the Holy Spirit and must be welcomed, pursued, acted upon?  Which ones come from Satan, or the angel or darkness, or the evil spirit—whatever we want to call our inclinations to selfishness, pride, and greed—and must be rejected?

 

In this chapel we have a statue of St Ignatius in an unfamiliar pose. It is a replica of an 18th century statue found in Cebu, dating to the time the Jesuits ran the Colegio de San Ildefonso there that later became San Carlos University. The statue probably came to the Philippines by way of Mexico, where St Ignatius is often depicted similarly to St Michael, slaying the serpent or the dragon, symbol of evil in the Greco-Roman mind. That is his pose in this statue, and in this pose we find an invitation to slay our temptations during this time of XSEL.  

 

We are using so much technology to do our studies this year, but technology has and will fail us. We will be frustrated and tempted to give up. 

 

The new online platforms, the structures of synchronous and asynchronous activities, will be a lot of work, even if we're doing it at home. We will be tempted to cheat, to pretend that we are following even if we are not. Our minds will play tricks on us and try to get us to take shortcuts. 

 

We will feel stressed out, and long to enjoy being idle. 

 

Such feelings are normal. There's nothing wrong with having them. But we need to be aware of where they can bring us. St Ignatius invites us to not only to awareness, but to action against our temptations. 

 

Where there is despair and the desire to give up, the Holy Spirit urges us to keep going, being patient with ourselves and with others, so we can continue growing and learning. 

 

Where there is temptation to take shortcuts and to cheat, the Holy Spirit whispers to us to be honest. 

Where there is stress, the Holy Spirit invites us to manage ourselves and our time well, so that we balance our work and our studies with time for play,   

 

sports and recreation; 

for meaningful conversations and interaction with friends and loved ones in the family, even if it is done only online.

Dear students, St Ignatius is the Jedi, inviting you to deep awareness of what is happening inside of you. Always choose the light of God, the light of Christ, and let that be the light that you let shine.  May the force be with you. 

 
The full video of the Mass may be viewed below:

Photos provided by Mr. Dan Abrogina and Ms. Cindy Lau: