The Xavier Art Fest (XAF) 2023 ART-FOR-A-CAUSE aims to develop a strong cultural appreciation of the visual arts in Xavier students and the community through the creation of physical and digital art. These submitted works were showcased in the recent Xavier Art Fest held last January 27-29, 2023. The sale of these physical and digital art pieces would benefit meaningful beneficiaries of Xavier School.
Through the Xavier School Art Department's effort, there was strong representation from both Xavier School San Juan and Nuvali communities; truly making this a diverse but whole Xavier School project.
This year's Art-for-a-Cause Contest marked a milestone for the XAF by accepting and showcasing digital artworks for the first time, which made up 50% of the total submitted entries. Mr. Rommel Alcala, chairperson of the Art Department, had noted, "With the recent pandemic and shift to online learning, the use of digital tools has grown even to how art classes are conducted. We have a lot of talented digital artists!"
Through the help of Art-for-a-Cause project-sponsor Philippine Digital Asset eXchange (PDAX), all artwork submitted were made available for sale as non-fungible tokens or NFTs. One hundred percent of the proceeds would be donated to the Xavier Educational Trust, Para Kay 'Cher, and other meaningful projects. Patrick Lao, XS Batch '02 and PDAX project team, states "I am a believer that the future is digital.  The number and quality of digital submissions we saw were impressive! I'm glad to have worked on this project and the opportunity to reconnect with Xavier after so many years."
AAXS and Xavier Batch  '97 would like to thank all the participants, project-sponsor PDAX, and the Xavier School Art Department for the support of Art-for-a-Cause and look forward to the continued growth of the artistic talent within the entire Xavier community.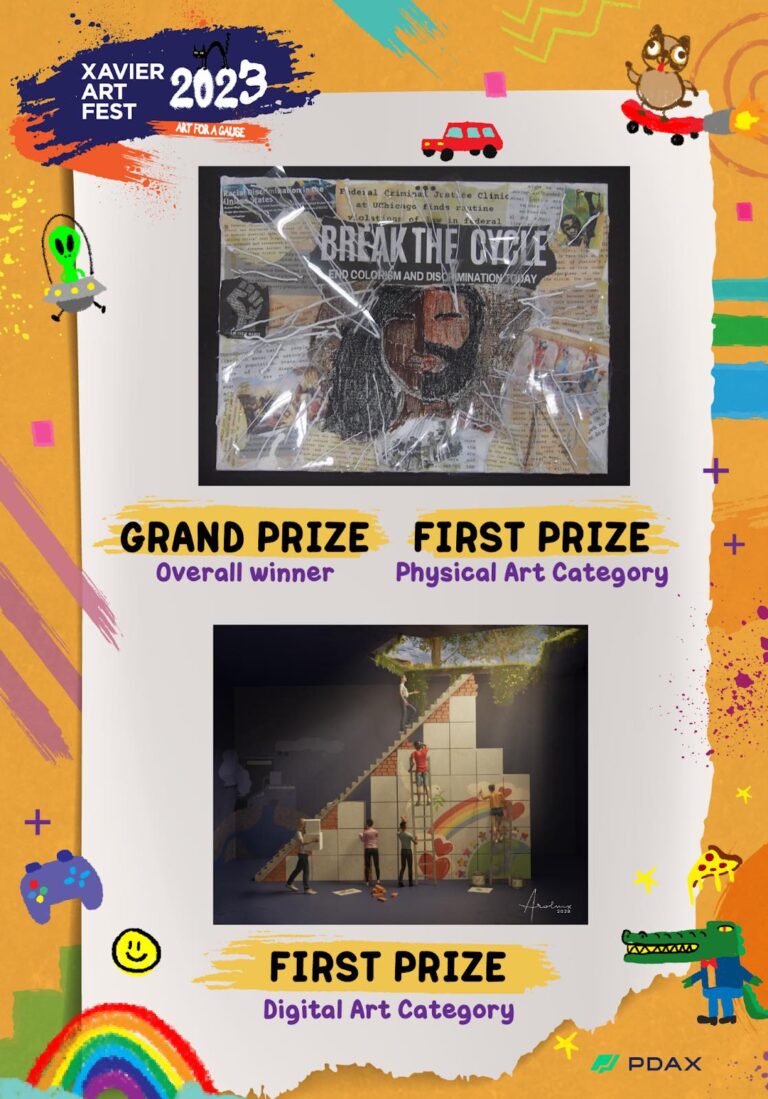 The following are the winners of the Art-for-a-Cause Contest for Physical Artwork and Digital Artwork Categories:
Physical Artwork Category
 1st    "BLM" by Braden Lim (XSSJ, 8F)
2nd  "Peach Face" by Amaris Nicole Villarosa Chang (XSN, 7D)
3rd:  "Stop Cyberbullying" by Kyle Chua (XSSJ, 8B)
4th:  "Racism is Poison" by John Nathaniel Hong (XSSJ, 8C)
5th:  "Untitled" by Mary Cuaki (XSN, 3C)
 Digital Artwork Category
1st:  "Building a Better Tomorrow" by Anika Rojas (XSN, 9D)
2nd: "One Earth, One Community" by Angelo Lorredo (XSSJ, 11B)
3rd:  "Hand in Hand" by Jose Sulit (XSSJ, 10D)
4th:  "Family of Flowers" by Jesusa Llamanzares (Open Category)
5th:  "Endless New Beginnings" by Franco Vibar (XSSJ, 10B)