Last weekend, the Xavier School Model United Nations Organization (xsMUN) held its first Xavier Model United Nations (XMUN) Conference at the Xavier School San Juan campus. Participants from various schools around the Metro participated in the pioneer event. The schools represented were:
APEC Schools
Assumption College San Lorenzo
Ateneo de Manila Senior High School
Chiang Kai Shek College
Colegio San Agustin
De La Salle University
De La Salle Zobel
De La Salle – College of St. Benilde
Far Eastern University
Grace Christian College
Immaculate Concepcion Academy
La Salle Greenhills
MGC New Life Christian Academy
Peniel Christian Academy
Saint Jude Catholic School
Saint Pedro Poveda College
Trinity University of Asia
University of the Philippines Integrated School
Xavier School San Juan
The committees of the conference were comprised of the United Nations General Assembly (UNGA ), United Nations Security Council (SC),  United Nations Human Rights Council (HRC), and  United Nations Economic and Social Council (ECOSOC). Overall, the two-day XMUN was a thorough success that will shape the future of xsMUN events in the months and years to come.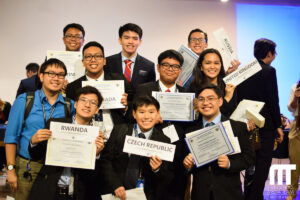 The opening program on Saturday morning (August 31) started with a lively performance by the Xavier Dragon Lion Dance Troupe, which was met by a standing ovation by the conference delegates. With that, the formal program commenced, hosted by founding xsMUN members Emilio Aquino and Luis Llave, both from XS Batch 2019. Aleksander Crisostomo, Secretary-General of the xsMUN Organization, then gave his opening remarks to welcome the delegates to the conference. With the bang of the gavel, the conference was set in motion and the delegates proceeded to their first committee sessions.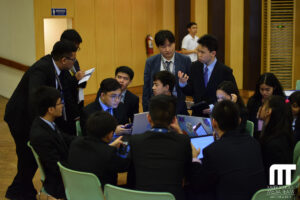 Throughout the course of the two-day conference, delegates faced real world problems head on. Using their skills in debate, communication, and compromise, the delegates represented their assigned countries on an array of issues. These ranged from the Security Council's discussion of foreign military bases in host countries to the Economic and Social Council's topic on debt bondage and the General Assembly's challenge of addressing water security. 
After a total of six committee sessions, multiple caucuses, general speaker's lists, crisis situations, and even some heated arguments, delegates presented their successful resolutions at the closing General Assembly on Sunday afternoon (September 1).  The different working blocs came up with proposals for issues faced by many nations and cultures. One example would be the General Assembly's set of policies in the case of accidental contact with indigenous uncontacted people which stated that member states must provide healthcare and education to these groups. In the end, select delegates were recognized for their contributions and achievements:
General Assembly
∙ Best Position Paper: Diego Ilagan, Xavier School (Russia)
∙ Honorable Mention: Ryan Magno, Ateneo SHS (USA), Theresa Limengco, DLSZ (Canada)
∙ Outstanding Delegate: Diego Ilagan, Xavier School (Russia)
∙ Best Delegate: Aidan Mensenares, Ateneo SHS (Venezuela)
Security Council
∙ Honorable Mention: Ralph Due, Ateneo SHS (Venezuela), Matthew Tansiongkun, Xavier School (Germany)
Economic and Social Council
∙ Best Position Paper: Cheyenne Kohchet-Chua, St. Jude Catholic School (Netherlands)
∙ Honorable Mention: Cheyenne Kohchet-Chua, St. Jude Catholic School (Netherlands)
Human Rights Council
∙ Best Position Paper: Kimberly Go, St. Jude Catholic School (Philippines)
∙ Honorable Mention: Lance Kho, MGC New Life Chrsitan Academy (Ukraine), TJ Martinez, Xavier School (Argentina
∙ Outstanding Delegate: Joshua Lyndon Miranda, Peniel Christian Academy (Croatia)
∙ Best Delegate: Joshua Cote, Sto. Niño National High School (Nepal)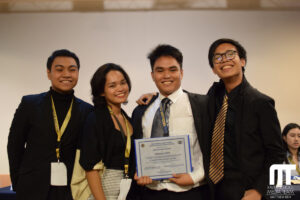 All in all, the resolutions presented by the bright minds of the delegation certainly showed that the first XMUN succeeded in achieving its goal of challenging the youth to come together to improve the world we live in. With this, the conference came to a close with words given by Deputy Secretary-General Carlo Malonjao and Faculty Moderator Mr. Jacob Nolasco.
In line with the vision of the conference and the motto of the xsMUN organization, may all be persons fully alive in the spirit of diplomacy. Luceat Lux!