The 1st semester online sports club program of Xavier School Athletics Department has received positive feedback from parents as well as the students.  It is in this light that we are continuing to offer two after-school programs for the second semester; Taekwondo and Chess.
These programs are designed and will be executed by Xavier School varsity coaches who are experienced in delivering quality content and activities online.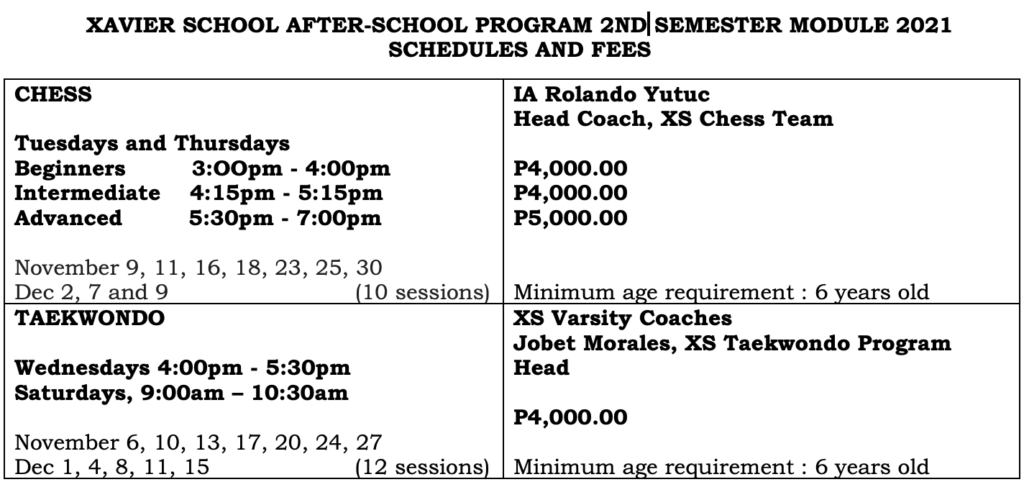 These courses are also open to non-Xaverians, both boys and girls.  Please send an email to athletics-mail@xs.edu.ph and marycagcaoili@xs.edu.ph for further inquiries. 
Registration Procedure:
Accomplish the online registration form here: https://forms.gle/yrAguUUEkDzc1Ew16
Await payment instructions which will be sent to your registered email address.
Follow the instructions on remitting payment and sending proof of payment back to us.
You will then receive the registration confirmation as well as the Zoom link to the

 session/s you enrolled in.
The following conditions apply to all courses:
Slots are on First-Come-First-Served.
All classes are subject to cancellation if the minimum number of enrollees is not reached.
No transfer or refund shall be allowed after the 2nd session has transpired.
Attendance is the responsibility of the enrollee or his/her parents.  No make-up sessions shall be permitted except when the school cancels classes/activities.