Date:   9 November 2021
To:       Xavier School San Juan Community
From:  The School President
Re:      Christmas Drive for Charity 2021
---
Our annual CHRISTMAS DRIVE generates resources for the school's Alay Kapwa fund, which is used to provide immediate response during natural calamities, to support Jesuit apostolates that directly serve the most needy in society, and to contribute to charitable causes and programs in the name of the school.  We thank you for your support every year. In the last 12 months, we have sent donations in cash and in kind to the Jesuit Mission Station in Caloocan, the Jesuit Prison Service, the Jesuit Volunteers Philippines, the Pontifical Mission Societies, and relief projects of the dioceses of Bontoc-Lagawe, Tuguegarao, and San Pablo, among other contributions. We also continued to provide calamity assistance to our maintenance personnel during the pandemic.
We are aware that we all live in difficult times due to the pandemic, and that the Parents' Auxiliary has also knocked on your hearts to contribute to the Christmas program for the faculty and staff.  Nonetheless, we cannot let the coming Christmas season pass without making an effort to assist "the last, the least, and the lost" in society.
In the past, your food donations helped us prepare 'Pamaskong Handog' bags and 'Noche-Buena' baskets for our agency personnel. These are our loyal and hardworking janitors and security guards, who were able to bring these grocery bags home to share with their families during Christmas and New Year's Eve.
This year's Christmas Drive will prioritize disaster assistance to communities devastated by recent typhoons like Maring in northern Luzon, our maintenance personnel and other groups and/or individuals who are greatly affected by the present health crisis.  We hope to bring the spirit of Christmas to them and their families amidst this pandemic.
The drive will run for a period of 5 weeks, starting November 9 until December 10, 2021.  Through your kindness and generosity, we hope you can donate in kind or in cash through the following channels:
Donations in cash or check (payable to Xavier School Inc.) may be sent through the following:
1.   Direct Deposit or On-line Transfer to:
BANCO DE ORO (BDO)
Account Number: 002890133075
Account Name: Xavier School Inc.
            Please indicate CHRISTMAS DRIVE 2021 on the Remarks
2.   Eastwest Bank bills payment facility.  Online banking:     https://personal.eastwestbanker.com/
Biller List:                    Xavier School Inc.
Biller Nickname:         XSI
Student Number:        20200123
Student Name:            Eg. Caleb Andersen Tan
Branch:                       XSJ
       3.  GCash QR Code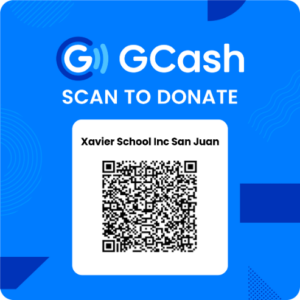 After payment kindly upload transaction slip to: https://docs.google.com/forms/d/e/1FAIpQLSfVlMYUNr4AUAYj8FB5yE7GclymwoVFdeb_tKfWv1_xsmiAbQ/viewform?usp=sf_link
Donations in kind.  Please drop off goods for donation at GATE 4, 9 and 14 ONLY, between 8:00 A.M. – 3:30 P.M.   Kindly donate ONLY those items that are listed below.
Rice (in 2-kilo, 5-kilo, 25-kilo bags/sacks)   
Canned Goods:  Meat and Sardines           
Instant Noodles
Sugar (in 1-kilo packs)
Instant Coffee (100g packs)
Health Care Kit (Alcohol, Face Masks, Vitamins)
To help ensure that your donations are distributed to the beneficiaries before Christmas, we would like to request that you send in all your donations on or before DECEMBER 10, 2021.
Given the outpouring of love every year, we have no doubt that the Christmas Drive envisioned by our Jesuit school pioneers will continue to be successful in reaching more and more people and families in need.
Thank you.
(sgd.)
Fr. ARISTOTLE C. DY, S.J., PhD
School President