Below are the Exemplary Alumni of Xavier School:
FRANCIS CHUA (1967)
Amb. Chua was awarded "for being a model of the socially conscious businessman and entrepreneur." "His favorite philanthropy is education"; he supports various Chinese educational institutions and universities here and in China as a member of its board.
ATTY. WILLIAM T. CHUA† (1972) Posthumous
Atty. Chua was recognized "for his commitment to social justice," as a human rights lawyer, often pro bono, he defended victims of injustice, civil rights abuse, labor issues, press freedom, and kidnap-for-ransom cases, and fought against electoral fraud. This former journalist was actively involved in various advocacies, for which he received awards from his alma mater, De La Salle University and the Ateneo de Manila University.
JOHN BURTKENLEY T. ONG, PHD (1986)
Dr. Ong, describes himself as a "technical missionary." As a geologist, he transformed the lives of indigenous people while preserving their cultures and heritage. His ministry with the minorities included physical and social surveys of watershed, groundwater work, and research on flooding, landslides and marine productivity, thus providing the indigenous people livelihood, appreciation, and conservation of their resources.
WELLINGTON Y. TONG (1966)
Besides heading his family's business, Mr. Tong has been an active lay member of the Mary The Queen (MTQ) Parish for over 30 years where he co-founded and became the first president of the MTQ Parish Council. As a Christian businessman, his moral principles permeates all aspects of his life including his high level of professionalism in dealing with employees, suppliers, clients, and the government sector.
EDWARD S. WANG, MD (1975)
Dr. Wang was recognized for making specialized medical care available to the poor. He has produced a remarkable number of award-winning scientific studies in the area of tumor orthopedics, limb-saving and bone transplant surgery, diagnostic biopsies and early screening programs. "Despite all the honors and credentials, he prioritized charity patients as the beneficiary of his expertise, and teaching government hospitals for free throughout the country."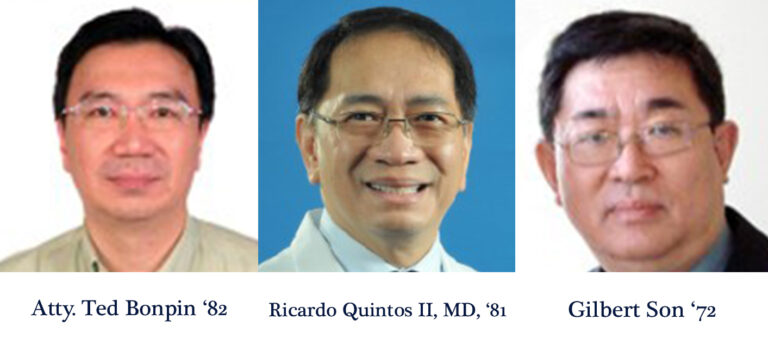 ATTY. TED T. BONPIN (1982)
Atty. Bonpin was recognized for empowering the marginalized, promoting good governance, and advocating environmental conservation. As a new lawyer, he started with developmental legal assistance and social development. His current legal practice now involves public interest, environment, and social justice as well as capacity building for LGUs, government agencies, and local communities of fishermen, farmers, and ethnic minorities. He also leads humanitarian organizations involved in disaster relief and rehabilitation.
RICARDO T. QUINTOS II, MD (1981)
Dr. Quintos was awarded for his multifaceted role in the field of medicine, as a physician, teacher, scientist, and benefactor. His works focused on microcirculation studies in the treatment of heart and vascular disease, invention of various medical devices for therapeutic purposes. "In addition to medical assistance to indigent patients, he initiated an economic self-help program for watchers of patients confined in government hospitals."
MR. GILBERT C. SON (1972)
Mr. Son's "vigorous Christian faith, active personal and pastoral involvement in the apostolate of adult spiritual formation" has "inspired and transformed many lives "to be a "man of faith." Together with his growing team of lay catechists, he tirelessly continues to spread the good news to communities and parishes in Cavite, Binondo, and San Juan.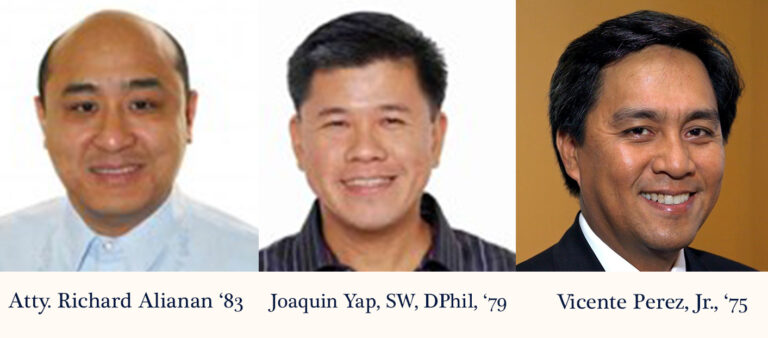 ATTY. RICHARD S. ALIANAN (1983)
Atty. Alianan was recognized for embracing the challenge of evangelization among non-Christians. Despite the hardships and obstacles in his personal and professional engagements, he has made evangelical work a priority. As a lawyer, he took on the plight of the victims of injustice by providing free legal assistance despite a full workload.
VICENTE S. PEREZ, JR. (1975)
Mr. Perez is the first Xaverian to attain a cabinet position, and he is a staunch environmentalist. He has set a high benchmark of achievement and professionalism in government service. During his tenure in the Department of Energy, he instituted reforms that reduced the bureaucracy and boosted self-sufficiency of the agency. He also spearheaded an ambitious rural electrification program that powered over 6,600 barangays in the country.
JOAQUIN C. YAP, SW, DPHIL (1979)
Dr. Yap has consecrated his life to serve God through youth apostolate and teaching ministry. Besides teaching in the university, he serves as senior pastoral leader for Ligaya ng Panginoon, as resource speaker and teacher for Lingkod ng Panginoon, the Brotherhood of Christian Businessmen and Professionals (BCPB), and FAMILIA. He also does missionary work by "building Christian communities in India, Indonesia, and Singapore. He also gives retreats and lectures in Australia, New Zealand, United States, Belgium, the UK and Ireland."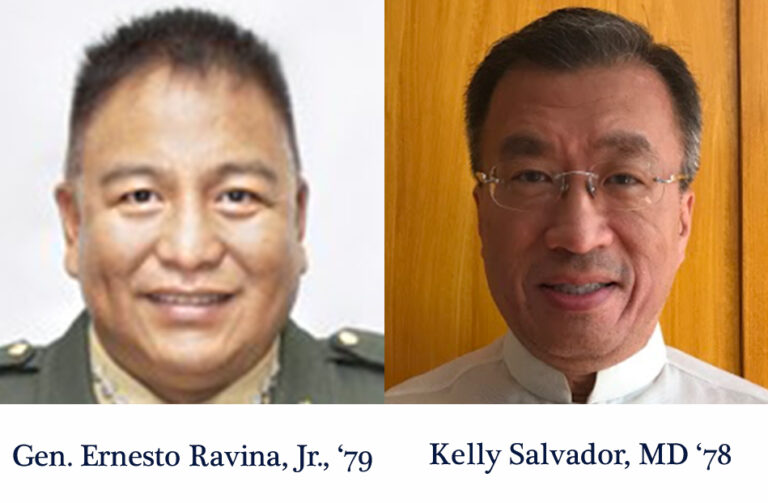 GEN. ERNESTO V. RAVINA, JR. (1979)
Gen. Ravina was recognized for his meritorious military service in both combat and peacekeeping duties, rescue, and relief. This multi-awarded soldier has excelled in military intelligence, research and strategic studies, weapons, communications and information technology. He was given the highest Navy honor, the Distinguished Navy Cross, for his leadership and service during the operations for rescue and relief in the aftermath of typhoons Ondoy and Pepeng.
KELLY S. SALVADOR, MD (1978)
Dr. Salvador was recognized for his outstanding service in the medical field of oncology, characterized by a passionate advocacy for cancer awareness and prevention. His commitment to provide free or affordable cancer treatment directly and through various organizations and public service programs have reached a great number of Filipinos. He started the Cancer Treatment Program (leukemia) for pediatric patients of the Lungsod ng Kabataan hospital, serves as Trustee of Kythe Foundation, a non-profit organization which provides psychosocial support for pediatric cancer patients in affiliate hospitals nationwide. He initiated the Donor-Patient Matching Programs for chemotherapy, linking benefactors to patients needing assistance.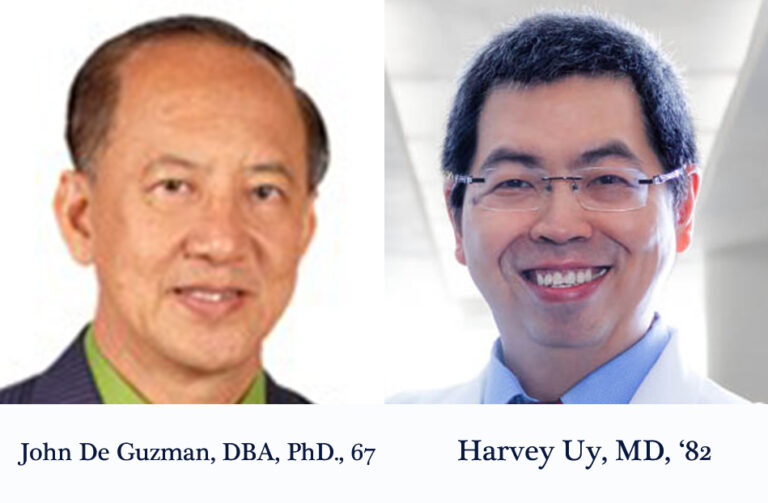 JOHN DE GUZMAN, DBA, PHD (1967)
Dr. De Guzman, was recognized for dedicating himself to the evangelization of the Chinese-Filipinos through his active involvement in the St. Jude Parish Pastoral Council and with the Boys Scouts of the Philippines. He pioneered the establishment of the Boys Scouts Foundation which provides financial support to deserving scouts who cannot afford international and spearheaded local jamborees so that they may acquire the needed skills to help them respond to the poor communities affected by calamities and other adversities. He is considered as the "Essential Boy Scout, Laging Handa at Mapagkakatiwalaan.
HARVEY S. UY, MD (1982)
Dr. Uy was awarded for his contribution in the practice of ophthalmology worldwide. He opted to return to serve the Filipinos. He founded the Asian Eye Institute and its Medical Mission which provides free assistance to the underprivileged including the rural poor in the Mountain Province. He teaches pro bono at the UP College of Medicine and started a Fellowship Program in Medical Retina and Ocular Immunology. He shares his knowledge and experience to local and international doctors on how to treat patients with devastating eye disease. His researches have benefited patients worldwide.

ENRICO EMMANUEL C. ANGTUACO† (1968) 
Mr. Angtuaco was awarded for his outstanding contributions in higher education. He served as professor, program director and administrator in the Ateneo and Asian Institute of Management, W.SyCip Graduate School of Business where, he introduced new and progressive changes. Aside from being an educator, he was an active member in the Rotary Club serving in various capacities. During his presidency, the club received the Most Outstanding Rotary Clubs of R.I. District 378.
HARRY T. CHUA (1965)
Mr. Chua, was recognized for his advocacy of jus soli (birthright by place) and for the integration of the Philippine-born Chinese. He was among the founding directors of Kaisa Para Sa Kaunlaran. Mr. Chua, an activist, has championed causes for policy reform on citizenship of native-born Chinese and has promoted greater integration for Chinese-Filipinos into the mainstream society.
LAWRENCE QUE, JR., PHD (1965)
Professor Que, a highly regarded teacher and a prodigious researcher scientist at the University of Minnesota,  specialized in bio-inorganic chemistry, vital to the development of new drugs that are less harmful. He was listed in 2008 as one of the top 100 living chemists in the world and was conferred the Honor of Regents Professor by the university's Board of Regents in 2009.
PAULINO Y. TAN, PHD (1962)
Dr. Tan was awarded for his outstanding contributions in the field of tertiary education, where he dedicated his professional life as an administrator, and educator. He assumed various positions in his alma mater, De La Salle University, where he was awarded as being the only Tsinoy with a high ranking position in a prestigious university. He founded Asia Pacific College, a computer school that gave students a competitive edge. He also served as chair of the technical panel on engineering and information technology of the Commision on Higher Education (CHED) and raised the level of IT education in the country.
WELLINGTON C. YU (1960)
Mr. Yu was awarded for his passion for excellence that inspired countless college students and professors. He revitalized the Business curriculum of the College of Business and Economics of De La Salle University resulting in DLSU CPA examiners ranking among the highest in the board exams. He inspired his students and colleagues with his mantra: "strive for excellence in everything you do, do not settle for anything less."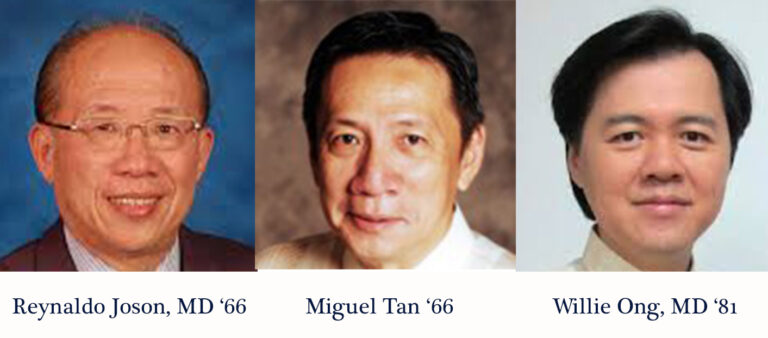 REYNALDO O. JOSON, MD (1966)
Dr. Joson pioneered innovative medical education in the Philippines like problem-based, distance, and online learning. He is currently a teaching physician at the UP-PGH. He specialized in surgery, received numerous awards and citations. His published instruction manuals are highly regarded by his students and are being used to this day.
MIGUEL A. TAN (1966)
A man who is always happy to serve, Mr. Tan is known for his leadership and selfless service in his numerous involvements and advocacies where he took on many roles and officer positions. He chaired the Philippine Jaycees National TOYM Committee in 1984, a time when the country was in shambles and brought back the integrity of TOYM. He reorganized the AAXS and recruited other alumni to participate and contribute. He is an active trustee in the Sapies Militus (Wise Soldiers) Scholarship Fund, Ateneo Scholarship Foundation, Inc, and the Xavier School Educational and Trust Fund, helping provide education for deserving young men and women achieve their dreams.
WILLIE T. ONG, MD (1981)
Through different media outlets, this distinguished doctor, Dr. Willie Ong, advocates the promotion of public health and the stay of doctors in the Philippines. He published several health books, researched on Philippine Medicine, and established a free clinic in Pasay together with his wife, Liza. He also received many distinguished awards which recognized his service to the people.

WILLY U. CO† (1973)
Mr. Co has contributed to the development of agriculture, through a business model that measures success by improving the productivity of Filipino farmers and providing them with affordable high-yielding seeds and efficient technology. As a philanthropist he supports various causes such as agricultural education scholarship, school buildings donations, adoption of the endangered Philippine eagle, and the causes of Tanggol Kalikasan.
LAWRENCE D. ONG† (1974)
Mr. Ong served the marginalized in his entire professional life, he dedicated his time for the needs of the refugees, minorities, out-of-school youth, rural and urban poor, and serves for the greater integration of Tsinoys into mainstream Philippine society. He was a member of various institutions, and travelled around the country to help organize community-building activities for the poor.
ROLAND STEPHEN CUA, MD (1978)
Dr. Cua was recognized for his lifelong involvement in the apostolate of the Neocatechumenal Way.  He helped form parish-based communities that continue the spiritual development of adult Christians all over the country. As a Physician, he serves selflessly in barrios and rural areas to give medical assistance and education in preventive medicine, where he teaches mothers and rural folks primary health care to prevent common infectious diseases.
JAIME MIGUEL BELMONTE (1981)
Mr. Belmonte assumed the task to continue the commitment of his mother for a free and independent press; he now manages the Philippine Star. He was also recognized for his commitment to social responsibility, for transforming his companies' works of charity into sustained humanitarian programs that provide relief and rehabilitation for victims of calamities. He is also known for his support to the education field, medical assistance for the poor, and preservation of the environment.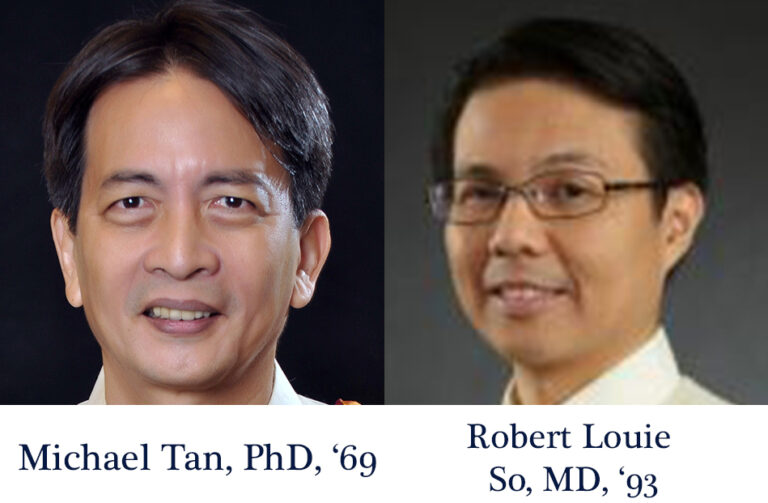 MICHAEL L. TAN, PHD (1969)
Dr. Tan has dedicated his professional life in education. He worked as a teacher, administrator, and researcher to promote social development in areas like reproductive health, gender equality, and traditional medicine. He has received numerous awards and citations in his field of research, Medical Anthropology, which helped provide a strong foundation for his social development advocacies and in formulation of public policy.
ROBERT LOUIS P. SO, MD (1993)
Dr. So helped formulate responsive public health policy and implemented government programs that provide the indigents with cheaper medicines and expanded health care. He shifted to government service and joined the Department of Health in 2003, where his work focused on promoting greater access to affordable medicine and treatment of the marginalized.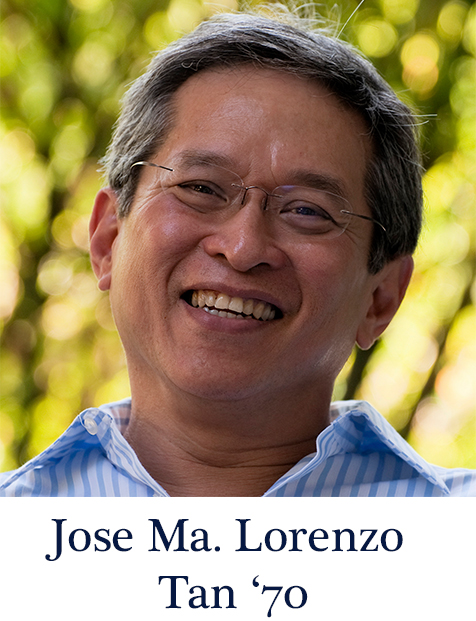 JOSE MA. LORENZO P. TAN (1970)
Mr. Tan, a former CEO of WWF Philippines, actively supported sustainable development, the value of conservation, and the innovative and integrated applications in the economic, social and environmental dimensions of the Philippine society. He was actively involved in crafting policy, building enforcement and management capacity, and creating sustainable financial frameworks for key ecotourism initiatives in Palawan, Mindoro, Batangas, and Sorsogon, among other provinces in the country.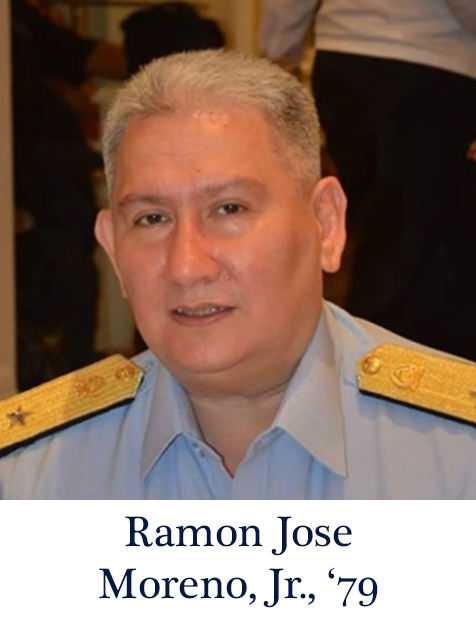 RAMON JOSE L. MORENO JR. (1979)
Mr. Moreno has dedicated his life in the ministry of mercy. He is admired for his steadfast and hands-on commitment to help and comfort the poor, the sick, and the dying. He started his ministry at a very early age, and has since then worked closely with various Catholic charitable institutions like Caritas Manila and Hospicio de San Jose, among others. The most inspiring action of his life's work is his dedication to visit hospital patients to pray for and with them. He is often accompanied by priests and nuns, and he also endeavors to bring with him relics of saints to provide comfort and hope to the seriously ill.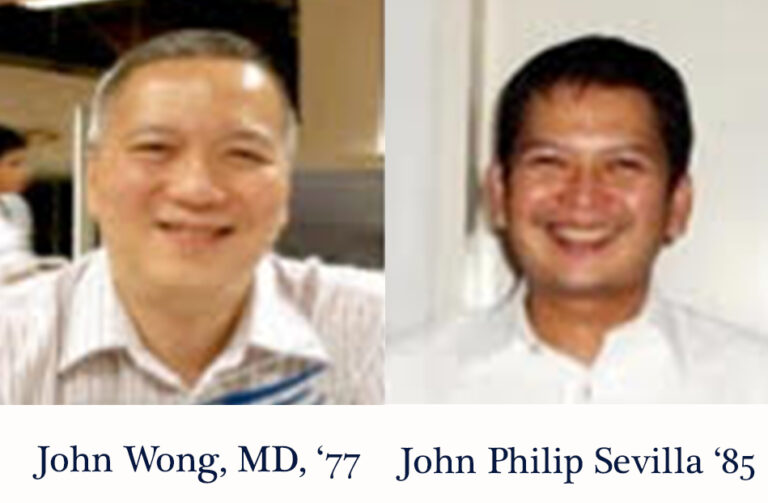 JOHN WONG, MD (1977)
Dr. Wong was recognized for his distinguished and dedicated service in the fields of education, research, community development, and public health. He is a practicing physician and teacher who has focused much of his career on research and education to advance public health policy and services. He worked with various organizations promoting public health and helped in the shaping of major government programs.
JOHN PHILIP P. SEVILLA (1985)
Mr. Sevilla was awarded for his honorable and professional service in government and committed work for social development through non-profit organizations, helping educate farmers and indigenous peoples in the remote areas of the Philippines. During his term as undersecretary of the Department of Finance (2006-2007), he increased the annual revenues fro P3.6 billion to P43 billion in 2007. During his term as commissioner of the Bureau of Customs, he implemented reforms that increased the collections by 21% in 2014; reduced smuggling of rice, steel, petrochemicals, oil, and motor vehicles; and he opened Customs ng Bayan website, an online portal accessible to the general public for greater transparency.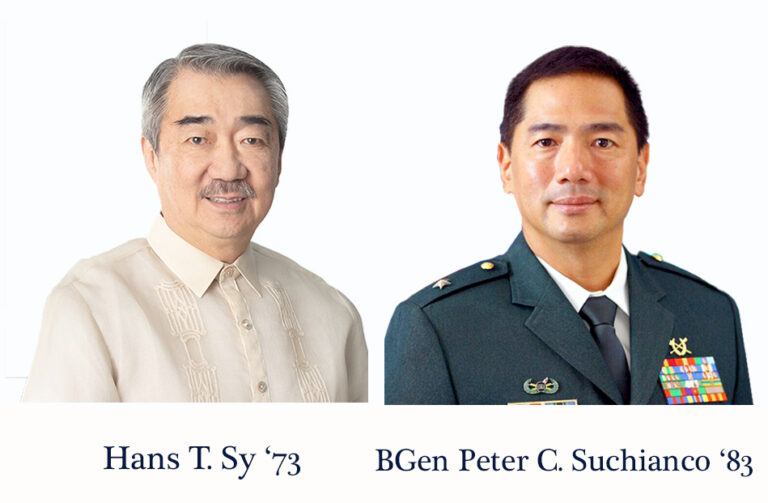 BGen. Peter Suchianco was recognized for his dedicated service as citizen-soldier and significant contribution to the development of the reservist movement of the AFP. His classmates and fellow officers paid tribute to his strength of character, tested from his early years as a working student, and for his passion to help others – even at risk to his personal safety – in numerous rescue missions and rehabilitation work in combat areas.
Hans Sy was honoured for his active and personal involvement in multiple philanthropies and for his committed advocacy for disaster risk reduction and climate change resiliency. The tribute highlighted his compassion for the children and families of Child Haus, a halfway house that provides shelter for indigent cancer patients seeking medical treatment in Manila. He was also recognized for being a leading voice in disaster resiliency, incorporating this in the design and construction of SM structures, and serving as the first Filipino member of the board of directors of the UN International Strategy for Disaster Reduction.