Date : 19 June 2022
To : The Xavier Community
Subject : Updates re Entry/Exit Gates, Traffic Scheme, Parking Regulations & XS Vehicle Sticker for School Year 2022-2023
————————————————————————————————————————-
Please be informed of some changes in the entrance/ exit gates for Grade 10, 11 & 12, due to the ongoing construction in Gate 9 and the XS Multi-Level Parking Building (cf Letter to Parents re Entry/ Exit Gates for SY22-23)
Updated access gates for the following grade levels are as follows:
• GRADE 10 – GATE 14
• GRADE 11, 12 – GATE 10
Consequently, please be informed that the XAVIER SCHOOL MULTI-LEVEL PARKING will remain closed until further notice.
Furthermore, in line with our continuing efforts to improve traffic conditions in the immediate vicinity of the school and in the surrounding communities, the City of San Juan, Barangay (Greenhills and Little Baguio), Greenhills West Association Inc., Xavier School and ICA have agreed to implement the following:
XS VEHICLE STICKERS
Only vehicles with valid Xavier School stickers shall be allowed to enter Gate 14 (High School Driveway), Gate 4 (Sports Center Driveway), and Gate 5A (EED Driveway) to drop off students. Note that the gates have been assigned to particular grade levels. Parents/ guardians/ yayas/ drivers will not be allowed to loiter or wait inside the school premises. There will be designated waiting areas at the gates.
The vehicle sticker will be available for purchase starting June 20, 2022 at a cost of P250 per sticker. Please note that we will strictly observe the "One Sticker per Vehicle Rule". To purchase sticker/s, kindly present the fully accomplished Vehicle Information Sheet to the Gate 2 guard for verification, then proceed to the Cashier at the Accounting Office.
TRAFFIC FLOW SCHEME:
Please take note that the traffic flow scheme below will be implemented from 6:00 AM to 9:00 AM and from 12:00 NOON to 5:00 PM during school days and on weekends when there are school activities (except for Item D).
A. MADISON Street

2-way traffic flow from ORTIGAS AVENUE to the intersection of WASHINGTON STREET

1-way traffic flow ONLY from WASHINGTON STREET to XAVIER STREET

B. XAVIER Street

1-way traffic flow ONLY from GRANT STREET up to corner of MADISON STREET

1-way traffic flow ONLY from MADISON STREET up to the corner of GEN. DE JESUS STREET 

From corner of Gen. De Jesus St. to Ortigas Ave. is two-way traffic

C. WASHINGTON Street

1-way traffic flow ONLY from Xavier St. up to Madison Street

D. GEN. DE JESUS Street

1-way traffic flow ONLY from 6:00 AM – 6:00 PM (whole day) from XAVIER STREET to JOSE ABAD SANTOS STREET

E. M.A. REYES Street

1-way traffic flow ONLY from JOSE ABAD SANTOS STREET up to corner of GRANT STREET

F. GRANT Street    

1-way traffic flow ONLY from M.A. REYES STREET up to corner of WASHINGTON STREET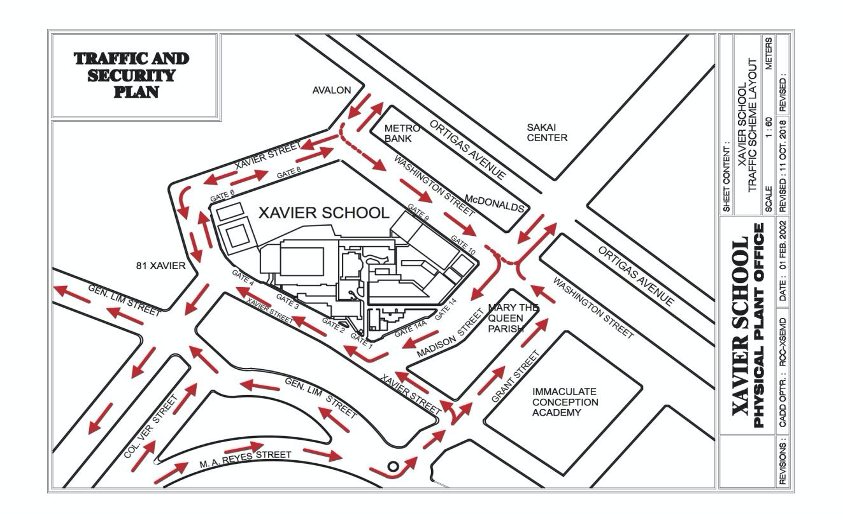 We would like to remind everyone to follow all traffic rules and regulations implemented by TPMO SJ and Barangay Greenhills. An existing ordinance regarding clamping of illegally parked vehicles will be strictly implemented around the school by the government.
We appeal to everyone's civic responsibility in ensuring the success of these programs that will redound to the common good.
Thank you for your usual support and cooperation.
(Sgd)
Ms. Maritess Elizalde
Campus Operation Director
Noted by:
(Sgd)
Fr. Aristotle S. Dy, SJ
Xavier School President