On September 28, 2022, the Saint Lorenzo Ruiz – Knights of Columbus Council 7344 of Our Lady of the Most Holy Rosary Binondo Chinese Parish, in partnership with the Minor Basilica and National Shrine of San Lorenzo Ruiz, launched an essay writing competition with the theme "Virtues of San Lorenzo Ruiz: Freedom, Creativity & Synodality." This was in commemoration of 35th Canonization Anniversary and the 385th Martyrdom Anniversary of San Lorenzo Ruiz.
The primary goal of this competition is to highlight the deep connection between the virtues exemplified by San Lorenzo Ruiz and the Chinese-Filipino Apostolate. San Lorenzo Ruiz, celebrated as the first Chinese-Filipino saint and martyr, holds a unique place in the hearts of the Chinese-Filipino community. This competition aims to inspire young minds to emulate and exhibit devotion toward San Lorenzo Ruiz's core values, which include freedom, creativity, and synodality. (businessmirror.com.ph)
The participating schools were Xavier School San Juan, Xavier School Nuvali, St. Peter the Apostle School, St. Jude Catholic School, and Lorenzo Ruiz Academy.
The following served as the panel of judges for the competition: Reverend Monsignor Esteban Lo, LRMS – Rector of the Minor Basilica and National Shrine of Saint Lorenzo Ruiz; Reverend Father Richard Ang, OP, PhD. – Rector and President of the University of Santo Tomas; Ms. Margaux Salcedo – Publisher and Editor-in-Chief of Catholic DominusEst.PH; Professor Gabriel Ma. J. Lopez, PhD., EnP – A licensed Philippine Environmental (Urban-Regional) Planner, who also serves as an educator at Loyola School of Theology; and Dr. Wilson Chua, PhD. – District Deputy of Knights of Columbus, District M43.
The winners were announced after the culminating Mass of the the national convention of the Chinese-Filipino Catholic Apostolate in the Philippines that concluded on September 30, 2023, at the Binondo Chinese Parish of Our Lady of the Most Holy Rosary.

Xavier School San Juan bagged the first and second place for the JHS category:
First Place: Zayden Marcus U. Noguera (currently in G9B)
Zayden Noguera, 1st Place
Second Place: Kaneshiro S. Ong (currently in G9C)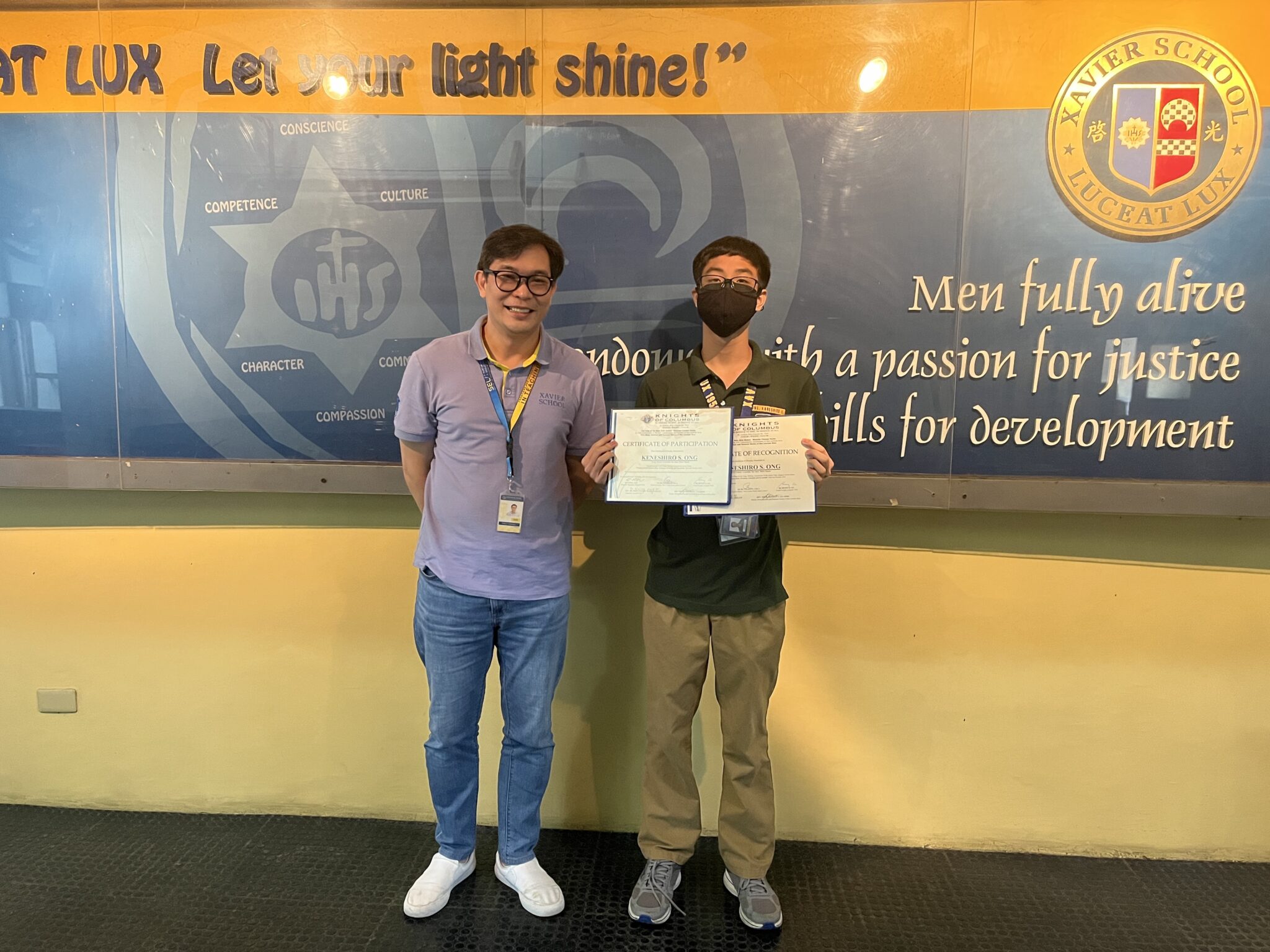 Kaneshiro Ong, 2nd Place
Other Xavier School JHS students were also recognized as finalists in the JHS category.
Finalists:
Hansly Kendrich C. Saw (currently in G11A)
Gabriel Alejandro E. Ratio (currently in G9C)
Jose Francisco N. Reloza (currently in G9C)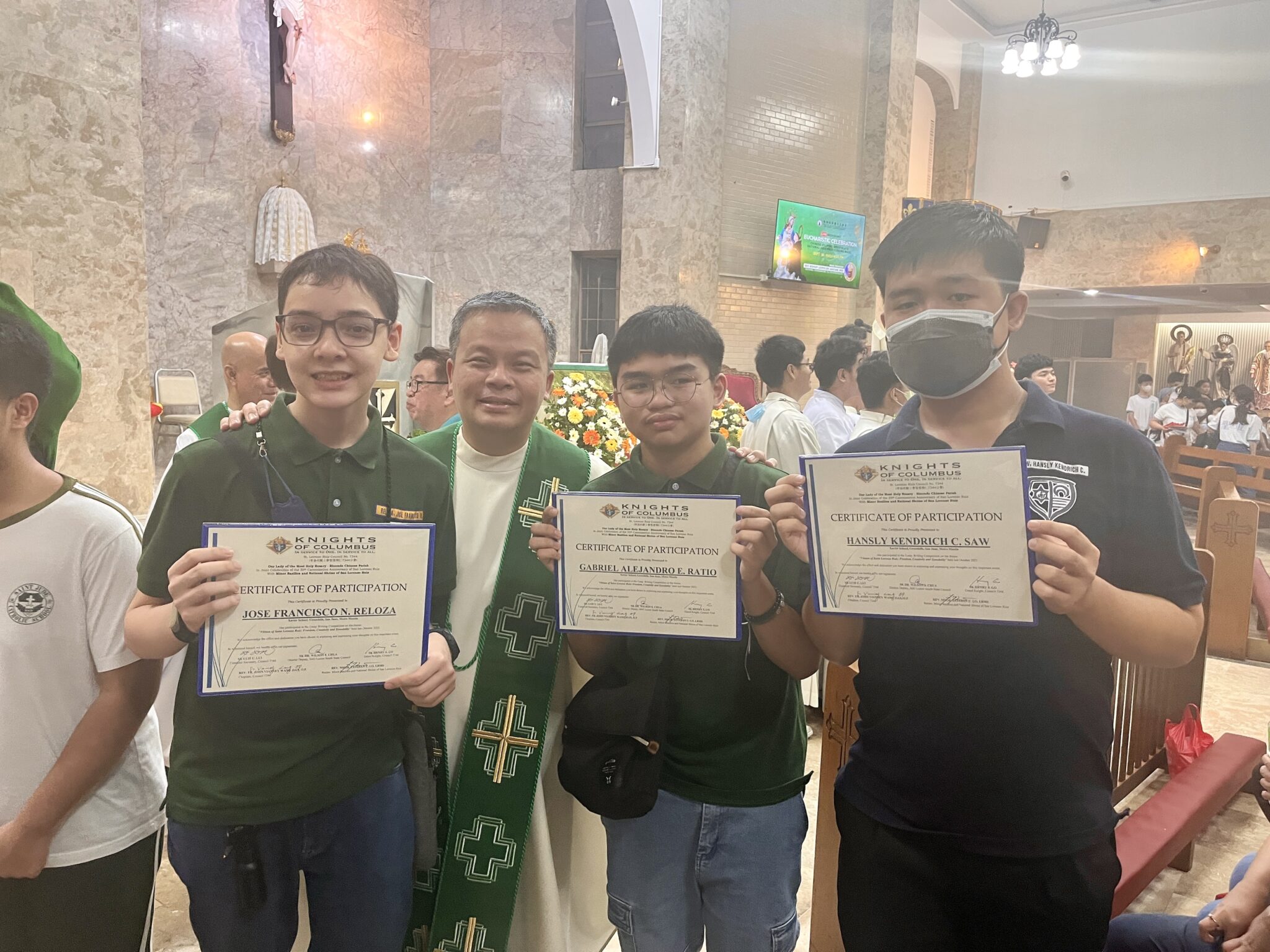 The complete list of winners for the JHS and SHS categories may be found in this article: Highlights from 2023 Chinese-Filipino Catholic Apostolate Convention and Awarding of Essay Competition winners on Virtues of San Lorenzo Ruiz.
Xavier School commends these students for their hard work and talent. Their involvement and achievement in this competition are truly praiseworthy. Congratulations and Luceat Lux!