On August 2, 2019, Xavier School once again held the highly-anticipated annual college fair organized by the school's Guidance Department. Representatives of universities from all over Metro Manila set up booths at Xavier's Angelo King Multi-Purpose Center (MPC), displaying the wide array of courses that each school had to offer along with the many benefits of each university. These included internship programs, international exchanges, and career opportunities after graduation. 

To be found at the fair were over 20 universities, each with differing selling points catering to the interests of Xaverians. Listed below are the universities that were present at the college fair: 
Adamson University
Ateneo De Manila University
Center for Culinary Arts (CCA) Quezon City
Centro Escolar University
CIIT Philippines
De La Salle – Araneta University
De La Salle – College of St. Benilde
De La Salle Medical and Health Sciences Institute
De La Salle University Manila
Dusit Hospitality Management College
Enderun Colleges
Far Eastern University Manila
Far Eastern University – Institute of Technology
iAcademy
Lyceum of the Philippines
Mapua University
Meridian International College
Our Lady of Fatima University
Philippine School of Interior Design
San Beda University
Southville International School and Colleges Manila
Thames International College
Technological Institute of the Philippines Quezon City
Treston International College
University of Asia and the Pacific
Both junior high and senior high students were quick to inquire at each of the booths, observing the different cultures found at each university and the courses they offered to determine what best suited their passions and personalities. The vast selection of booths evidently caught the attention of curious senior high school students who enthusiastically collected pamphlets and merchandise offered by each school. One notable college, iAcademy, gathered a crowd with their digital drawing software that budding artists of the junior batch were excited to use.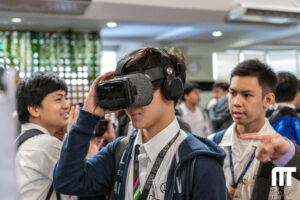 The college fair could not have come at a more opportune time as the 11th grade students are at a point where they must seriously consider which universities they will be applying to in order to make the preparations in line with the different universities' expectations. On the other hand, the graduating students will soon hand in applications, take college entrance tests (CETs), and fulfill other requirements for their dream schools.
The fair, which thankfully pushed through regardless of the mid-day class suspension, was successful in providing much needed clarity to the students who will be making huge decisions in the days, weeks, and months to come. Rest assured, the Xaverians will have the full support of the school, their families, and God in the paths they choose to pursue which will propel them into adulthood.
Luceat Lux!