Last November 9, 2019, Xavier School welcomed renowned Filipino Grandmaster (GM) Rogelio "Joey" Antonio, Jr. for a chess simultaneous exhibition. Forty-five Xaverians, alumni, and members of the school community valiantly pitted their wits against GM Joey, who is the Philippines' 3rd grandmaster and holds the record as the 13-time champion in the Philippine Open.
GM Joey Antonio came out undefeated with 41 wins and 4 draws. Prizes were awarded to the last 10 finishers including those who managed to end their games in a draw. Drawing with GM Joey were Jericho Winston Cu (4C), Tyrone Edward Tan (11F), Adrian Co (XS 2011), and Gavin Lloyd Ong (XS 2016). Last finishers were Martyn Matthew Francis Judd (3H), Ivan Travis Cu (5I), Niccolo Gabriel Ripoll (9G), Nile Angelo Kuan (9D), Marvin Perrin Pe (XS '96), and Abraham Tecson (XS '73).
A Chess Simultaneous Exhibition is a type of tournament where an exhibitor plays against multiple challengers at the same time. It gives the challengers a rare chance to experience playing opposite a high caliber athlete. This event marks the second time a grandmaster visited Xavier School for simul-exhibition. The first was a decade ago in July 2008 with GM Wesley So, who recently obtained the distinction of being the first Fischer Random Chess World Champion.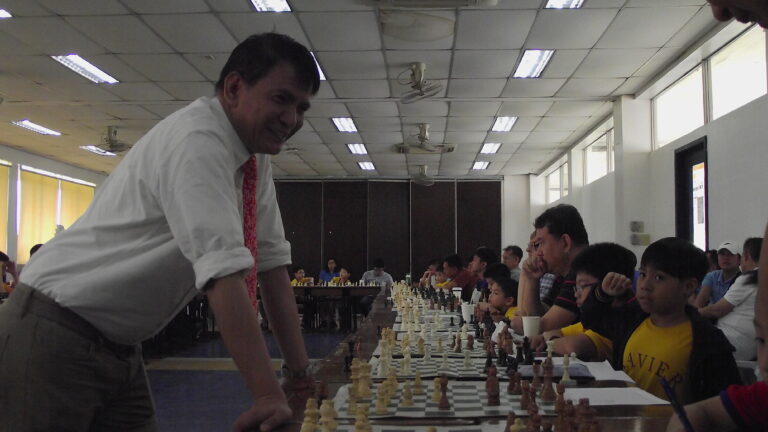 In a touching speech, GM Joey Antonio recalled his own struggles to becoming a grandmaster. Born to a poor family, GM Joey worked as a newspaper vendor when he was young. He started playing chess at the age of 11. He remembers playing against GM Eugene Torre in a simul-exhibition, and never imagined he might someday also become a grandmaster himself. Although offers to play for other countries came along, GM Joey is proud to have chosen to represent only the Philippines in his 38-year chess career. He encouraged young Xaverians to train hard and expressed his hope that everyone will get the chance to feel the pride of representing one's own country.
In attendance were Athletics Director Larry De Las Peñas, Xavier School Chess Club & Varsity Coach International Arbiter Rolly Yutuc, and FIDE Arbiter Marlon Bernardino. The event was organized by the chess varsity parents led by Ms. Caroline Cu, Ms. Jen Lim, and Ms. Elaine Estrada and was held in support of GM Joey Antonio's championship bid in the current FIDE World Seniors 2019 Chess Championships in Bucharest, Romania.